How do I Become an Art Therapist?
Art therapy is a profession in the mental health field that lets a patient create art in the form of paintings, sculptures, drawings, or other creative measures so that her emotions can be revealed. Feelings are brought forward, thoughts are expressed, and conflicts are resolved through art rather than through verbal communication. Colors, details, spatial arrangements, proportions, and technique are examined by the art therapist to determine how the patient sees her world. In general, the patient is using art to show her subconscious thoughts, feelings, desires, and fears. Consequently, the decision to become an art therapist can be very rewarding.
The path that one must take to become an art therapist is fairly specific. Art therapists must meet specific educational standards. Each country has their own select standards for those wishing to become an art therapist. For example, in the United States, the standards are set out by the American Art Therapy Association and in England, they are dictated by the British Association of Art Therapists; however, in France art therapy is not recognized as a "true" profession – so there is no regulation and anyone can call themselves an art therapist. In the countries where art therapists are regulated, students must have a master's level education in art therapy or counseling with an emphasis on art therapy, if they want to practice professionally.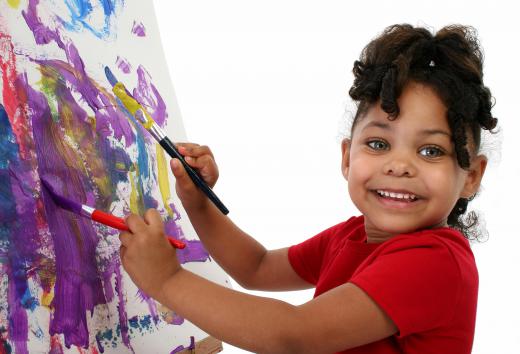 The master's degree programs usually include courses in pathological art expression and normal art expression. There are often courses that specialize in art therapy with children and those with special education needs. Other courses that may be taken by those wishing to become an art therapist include art therapy with stroke patients, therapeutic counseling, psychotherapy, and other courses dedicated to psychology – such as how the alter ego defends itself, theories of personalities, and clinical treatment issues.
Classwork is only the tip of the iceberg for those who want to become an art therapist. In most cases, many hours of studio fieldwork experience are also required – especially for those art therapists who want to become registered. Usually, the student is encouraged to intern at a variety of settings – from clinics to hospitals to community centers to treatment centers. By experiencing each kind of setting, an art therapist can decide where she would to work. For example, some art therapists may prefer to work in psychiatric centers and others may find work at prisons or halfway houses fulfilling.
On a personal level, there are also qualifications to become an art therapist. Someone must be sensitive to the emotions of her patients; she must have empathy and be emotionally stable, herself. She must also have plenty of patience – a breakthrough can take time and patients can be very fragile on an emotional level. She must also have strong interpersonal skills and communications skills, as well. She must also understand art media.
AS FEATURED ON:
AS FEATURED ON:

By: Jaimie Duplass

Art therapists help people communicate feelings through art.

By: Hemeroskopion

Art therapists usually begin with their own background in a specific medium.