How do I Become a Radio Broadcaster?
Radio broadcasters provide information over the airwaves to anyone with a radio and the inclination to tune in. Working as a radio broadcaster can be an interesting career, and there are several ways to approach work as a broadcaster, depending on what type of broadcaster one wants to become. As a general rule, all of the options involve spending some time in school to learn about broadcast journalism and the technology of radio, and undergoing an internship with a radio station to learn about the work in a hands-on way.
People who want to start careers in broadcasting may want to think about what kind of broadcaster they wish to become. A radio broadcaster can work as a sportscaster, weather person, journalist, newscaster, talk show host, disc jockey, and so forth. Smaller markers may offer a radio broadcaster an opportunity to interact with members of the community and get involved in community initiatives, while larger markets can get a broadcaster's name well known, although they may offer fewer chances to interact directly with station listeners. Broadcasters may also opt to work in public radio if they are interested in serving communities.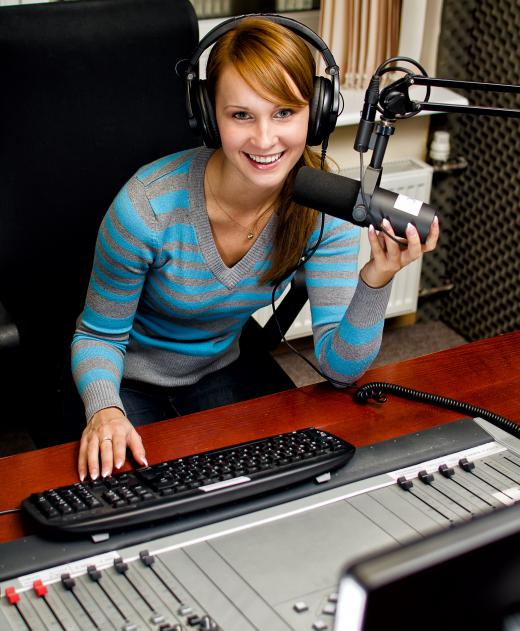 In order to become a radio broadcaster, it will be necessary to have a high school diploma at a minimum. With a diploma, someone can opt to attend a community college or technical school to get an associate's degree in broadcasting, journalism, or a related field, or he or she can pursue a bachelor's degree in broadcasting. A bachelor's degree will take longer, but it will open up more job opportunities, especially if the student attends a school with a well-known broadcast journalism program.
While training to become a radio broadcaster, it is a good idea to get a job or internship at a radio station to get work experience. Initially, very little time will be spent on air, but the prospective broadcaster can learn about how the equipment works, how to pull a story together, and how a real radio station is managed and run. Many colleges also have radio stations which hire students, offering more opportunities to get on air.
After someone has graduated with a radio broadcasting degree, he or she can apply to work at a radio station. It helps to start out in smaller markets, which tend to be less competitive, and to work up to larger stations and markets. For example, a major radio station in a big city will probably be less likely to hire someone straight out of college, but it would consider an applicant who has worked for several smaller stations and demonstrated skill.
AS FEATURED ON:
AS FEATURED ON:

By: dmitrimaruta

A DJ works at a radio station.

By: WavebreakmediaMicro

A radio broadcaster may report news and sports.

By: zimmytws

A high school diploma is typically the minimum educational requirement to become a radio broadcaster.

By: gstockstudio

Obtaining a bachelor's degree in journalism will open up more opportunities for an aspiring radio broadcaster.

By: On-Air

Many colleges have radio stations which hire students, offering more opportunities to get on air.