How do I Become a Hotel Caterer?
An individual who wants to become a hotel caterer often starts out by seeking education in a related field. For example, a person interested in this position may enroll in a hospitality management degree program. Such a program may end with a two- or four-year degree in this major. Alternatively, an individual who wants to become a hotel caterer may successfully do so after attending culinary school and gaining some catering experience. Additionally, some people may land jobs in this field after working their way up in a hotel's catering department, even if they have not pursued education in the field.
An individual who secures a position as a hotel caterer manages catering and events that are held in a hotel. His job may include a wide range of tasks, including overseeing catering and event staff, meeting with people who want to hold an event in the hotel, and planning events. While a hotel caterer may have many people helping him, his job usually involves supervising all aspects of an event and making sure it goes as planned. The types of events a hotel caterer may handle may range from seminars and employee luncheons to weddings and business conventions.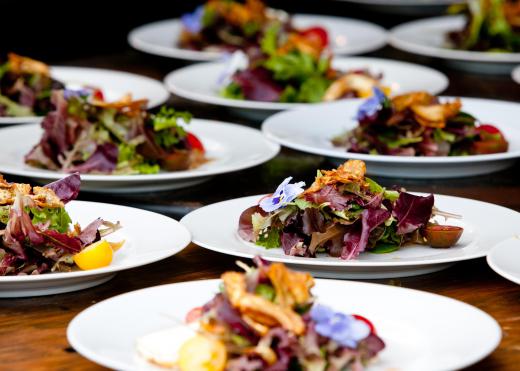 To secure training that is helpful for a person who wants to become a hotel caterer, an aspiring hotel caterer may attend a trade school and study hospitality management. Sometimes, however, a person may attend college to prepare for this field, completing a two- to four-year degree in a hospitality-management-related major. Alternatively, a person who wants to become a hotel caterer may work to earn a degree, certificate, or diploma from a culinary school. These schools provide students with in-depth knowledge and experience in cooking and preparing food.
An individual doesn't always have to go to culinary school or study hospitality management in order to become a hotel caterer. An individual interested in this field may start out working in a hotel in a related position and work his way up to becoming a hotel catering manager. For example, a person may start out as a hotel catering server and gain years of experience in the field. After gaining several years of hands-on experience in hotel catering, a server may apply for a management position with the hotel that employs him. If the hotel caterer position is taken at that particular hotel, he may go on to apply with another hotel, citing his experience.
AS FEATURED ON:
AS FEATURED ON:

By: Eric Limon

Skilled caterers enjoy working with food and are often competent cooks, even if they do not personally cook for events.

By: lester120

Hotel caterers may go to culinary school.

By: malexeum

Hotel caterers may be hired to provide food for events at hotels.