Which Skills are Needed for Dental Assistant Jobs?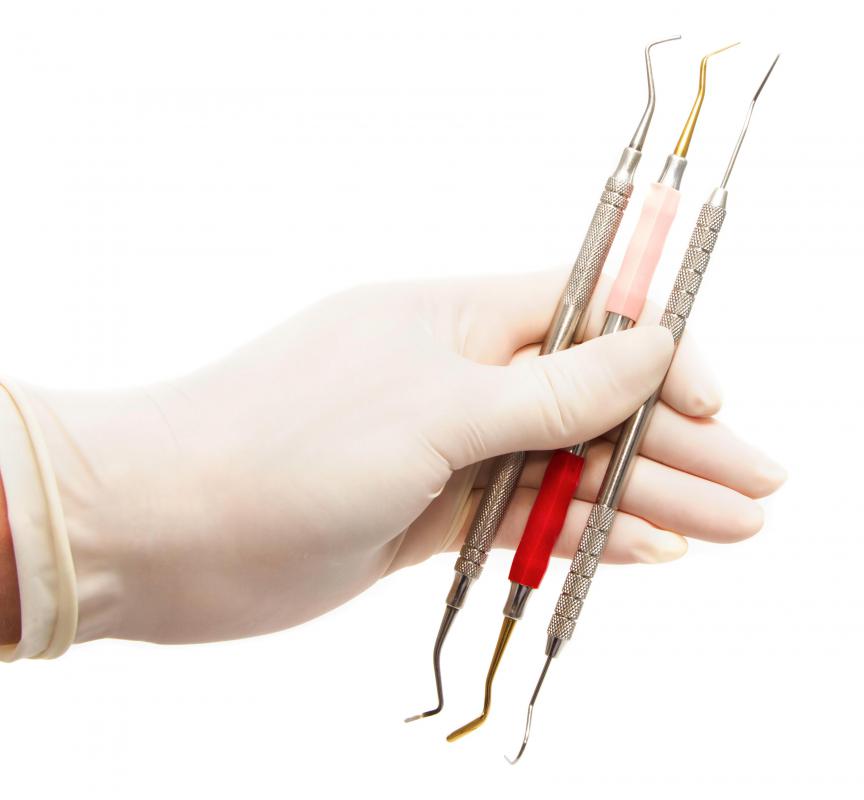 Working as a dental assistant requires that a person enjoys working with the public. Dental assistants help the dentist with patients on a daily basis, so they must possess excellent customer service skills. These jobs are ideal for those who enjoy using their hands and minds to accomplish a varied set of tasks. It's also important for the assistant to possess good communication skills, as he or she will constantly be required to speak with the dentist, other dental professionals, and patients.
In most dentist offices, a dental assistant is expected to assist the dentist with a variety of complex dental procedures. He or she will take dental X-rays, ask patients about their medical history, and take patients' blood pressure. This person will help patients to feel comfortable before, during, and after dental procedures. Dental assistant jobs also require that the assistant be knowledgeable about sterilizing dental equipment in order to prevent infections.
The assistant will often be required to use a variety of office equipment in addition to his or her regular dental duties. For example, most will need to use a computer in the dentist's office. They must also have the ability to speak with patients over the phone if necessary. Some assistants may be responsible for scheduling appointments, ordering supplies, discussing billing with patients, and other general office tasks.
People who are looking for dental assistant jobs will need to attend a community college or vocational school. Programs are usually short-term, often requiring only nine to 11 months of study. Some schools offer accelerated dental assisting programs that allow students to complete their training in an even shorter amount of time. Other schools may offer distance education or part-time training.
A person who wants to become a dental assistant should verify that the prospective school is accredited, such as by the Commission on Dental Accreditation of the American Dental Association in the US. Upon graduating from a program, the graduate often earns a career certificate by passing an exam. Some assistants decide to pursue certification by taking the Dental Assisting National Board's (DANB) Certified Dental Assistant (CDA) exam.
By: praisaeng

A dental assistant should be knowledgeable about sterilizing dental equipment.

By: belahoche

A dental assistant may be responsible for taking dental X-rays.

By: PaulPaladin

A dental assistant may take patients' blood pressure.

Dental X-ray.