What Should I Consider When Recording an Answering Machine Greeting?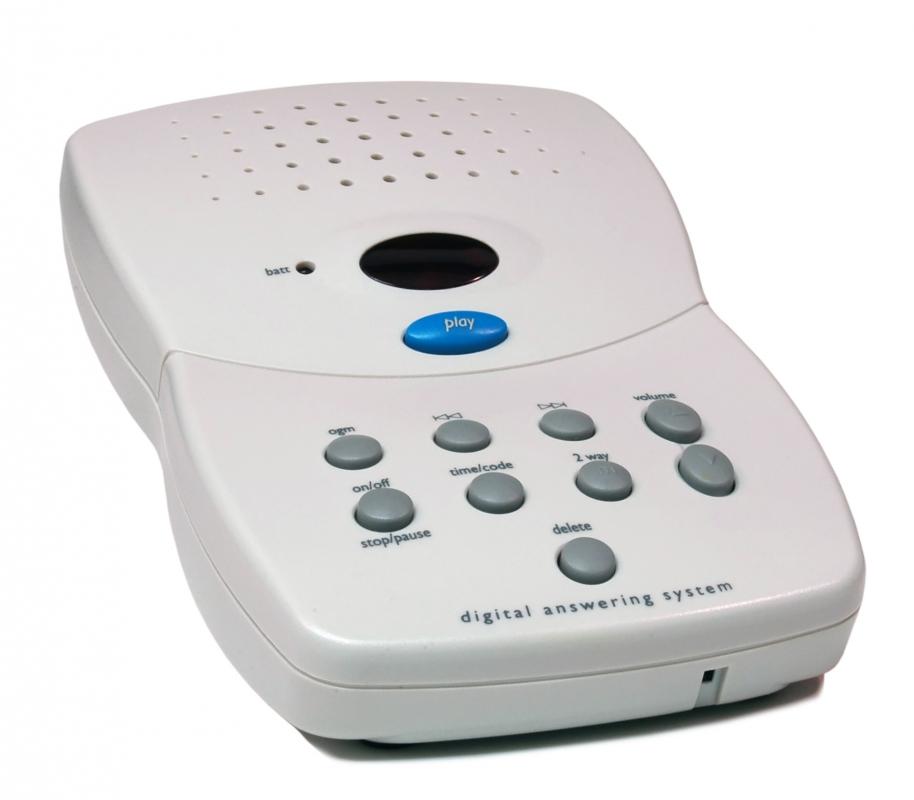 One of the chief considerations in recording an answering machine greeting is your audience. Who will be listening to your answering machine or voicemail salutation? Is this a business line or a home phone line? Furthermore, just how much information do you want to give out to potential strangers, like telemarketers, who may be calling your home?
When you're recording an answering machine greeting for your home, or a voicemail greeting, some people like to keep it funny and light. They may record a message together, have one of their young children record, play silly music in the background or create some kind of a joke. While it's fine to be funny, especially on a home recording, you should probably avoid being crude, particularly if you think children may be calling your home.
You may additionally want to bear in mind that people might be calling you from their cellphones, and a long message can use up someone's valuable cellphone minutes. Some voicemail systems have the option of pressing a key like the pound key to immediately start recording a message; you may want to consider the funny or long message only if you have this option available to callers. Another point of consideration when recording an answering machine greeting is who is likely to call. If you're job hunting, for instance, you may want to drop the funny salutation for a while, and use a more standard and businesslike greeting, unless you're applying for jobs as a comic.
Some people are more interested in recording an answering machine greeting that gives just the bare minimum of information. Such a greeting might be: "You've reached 555-5555. Please leave a message and we'll get back to you soon." What this salutation may lack in imagination, it may make up for in personal security, especially if you're getting calls from telemarketers. Note that you don't give your name, don't reveal who lives in your home, and don't say that you're not at home. Occasionally thieves do call a home to verify the person's presence at home or lack thereof. You're essentially not committing to anything but your phone number in this kind of message, and the short message is likely to please cellphone callers.
This is the type of message you should aim for when you are recording an answering machine greeting at your place of business. Some people do need to leave other information for business salutations, such as office hours, and they may leave special messages when they're on vacation. Name of the business, or your name can be important too, since people may want to be sure they've reached the right person or business.
People may not want to give information about who lives in their home to unknown callers for a variety of reasons. This information may be used by telemarketers who could then ask for you by name when they call again, scammers who might do the same, or people who are not interested in your welfare. Women living alone for instance may use the "we" instead of "I" to suggest more people living in a house, and can even opt for using the machine generated message or computer generated "male voice" instead of their own voice to increase their security at home. For personal security reasons, you might want to avoid indication of children in the home, too, and you certainly shouldn't mention that you're on vacation.
In all there is plenty to consider when you're recording an answering machine greeting. If you're aiming toward a more secure home, you can use a very basic message. If you are really funny, and friends and family mostly use the phone line, maybe funny is the best way to go. For businesses, stick with the bare facts that give enough information to callers about when their call is likely to be returned or when they should call again.
Funny answering machine messages may be found on the internet and transferred to the machine.

Long answering machine greetings may be inconvenient for callers.

Telemarketers may use any information given in an answering machine greeting.

Some answering machines utilize cassette tapes.

An answering machine greeting for a home business could be used to promote products, such as makeup.

Answering machine greetings should be pleasant in tone.