What Should I Consider When I Buy Paving?
When considering a new paving project or updating currently paved areas, there are several factors to consider. Before you buy paving materials, determine where the paving will be located, the amount and type of traffic the materials will sustain, and the climate and weather conditions that will affect the material. The cost of paving materials is important and varies, with concrete being the least expensive option.
There are different types of material to consider when you buy paving. The area to be paved or repaved will be a factor in helping determine the material best suited for the project. Types of paving material to choose from include asphalt, concrete, and stone pavers. Bricks and cobblestones set in concrete are also used for areas such as ornamental gardens and landscaped walkways, or for renovating original brick pathways for homes in older neighborhoods or historic districts.
Climate and seasonal temperatures are especially important when selecting the appropriate paving materials. Prolonged exposure to seasonal weather conditions that include extreme changes in the weather such as freezing temperatures, snow, and ice can affect the material's durability. In contrast, a hot, arid climate where paving material is subjected to extreme sun and heat for long periods may prematurely dry out the material.
Paving material is naturally subjected to a variety of conditions. Whether it is used for a driveway, sidewalk, or serves as the patio area surrounding an in-ground pool, the estimated amount of traffic and wear and tear are factors to consider before you buy paving material. For the best, most long-lasting results, buy paving manufactured with quality materials appropriate to the anticipated use.
Two additional considerations in selecting the best paving material are safety and maintenance of the material. To get the most value out of your purchase, for pool or hot tub areas, consider paving material that drains well, does not permit standing water, and reduces the possibility of slipping. For sidewalks and pathways using bricks or brick paving stones, choose quality material and use installation techniques specifically designed to withstand the weight of everyday use. Maintain asphalt driveways or walkways with a sealant to increase the longevity of the material.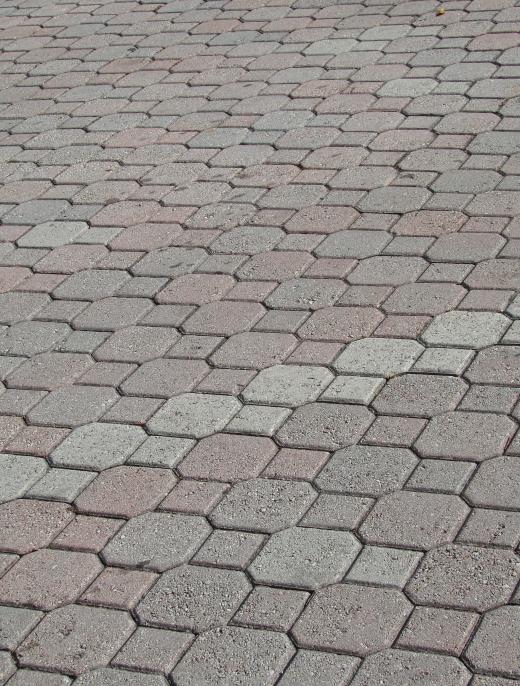 When purchasing paving materials for do-it-yourself installation, ensure you buy paving applicable to the project and that the company has a return policy. For more complicated or larger paving projects, you may want to consider hiring a professional paving company. If so, look for companies that will provide a warranty that includes both materials and labor.
AS FEATURED ON:
AS FEATURED ON:

By: Alex Petelin

Moss growing between cobblestone pavers.

By: forelle66

Asphalt driveways and walkways should have a sealant to increase longevity.

By: Elenathewise

Brick pavers are often used in garden walkways.

By: Pix by Marti

Interlocking pavers are generally ideal for use in driveways.