What are Engraved Pavers?
Engraved pavers are flat stones used to pave a pathway that are engraved with names, images, or messages. The method of engraving pavers is done with stencils and metal plates. They can be used as part of a walkway to a home or a driveway. Pavers can also consist of engraved bricks that can be customized into memorial bricks and stenciled and designed for memorial sidewalks.
There are many benefits for using brick engraved pavers. They are strong and durable, and can withstand a significant amount of weight. Brick is also accommodating because it moves with the underlying soil, which can help prevent the cracking of walkways and driveways. When a person wants to buy a brick, he or she needs to consider how many they need for the size of their project. It is wise to find a dealer who offers displays of the brick as it would look installed so the homeowner can decide what he wants to purchase.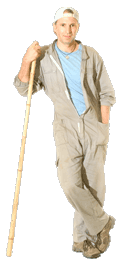 In addition to brick, there are several different types of pavers that can be engraved. A concrete paver, for example, is a building material made of cement, stone, sand, and water to make a firm, even surface. Another type is made of granite, a material which makes a strong engraved paver that has a reputation for being almost indestructible. When granite is highly polished, it can maintain the polish for decades; this is why this type of material is a popular choice with stonemasons for building statues and monuments.
Travertine pavers are also a popular choice and are easily engraved. This is a natural and sedimentary stone that is formed from calcium carbonate and produced in hot mineral springs. Travertine pavers come in three main types of finishes: honed and chiseled edge, tumbled, and antique. Each finish can be a durable choice for engraved pavers.
Another type of paver is cobblestone. Cobblestones are small, round stones used historically for paving roads to help reduce dirt and mud. They are still used for walkways and landscaping projects, and can be a good option for someone looking for a small engraved paver.
The process for engraved pavers consists of three main methods: sandblasting, laser engraving, and bronze plating. Sandblasting involves taking the information to engrave and developing a stencil from it. This stencil is then sandblasted onto the pavers to give it an engraved effect. Laser engraving is a process where images or messages are cut onto the pavers using a laser; this method is also called vitralase. Bronze plaque engraving places a bronze plaque over the pavers, which is then painted with a protective seal to guard against weather elements and traffic.
AS FEATURED ON:
AS FEATURED ON:

Worker