What Should I Consider When Buying Cake Pans?
There are a number important issues to consider when buying new cake pans. Modern cake pans come in a wide range of materials, shapes, sizes, and styles. You want to ensure that you purchase cake pans which are suitable for your intended use. You may also want to look into ways to get a deal, as high quality cake pans can get quite expensive. Restaurant supply stores are excellent places to look for cake pans and other kitchen supplies.
Cake pans are generally made with one of three materials. Classic cake pans are made from metal, enamaled metal, or glass. Some manufacturers are also offering cake pans made out of silicone. Metal cake pans come in two basic designs: springform, and regular. Springform metal pans snap apart, allowing you to easily get the cake out. They also come in a range of shapes and sizes, although round springform pans are the most common. Glass and enamel cake pans are less readily available.
Many bakers have made the switch from metal to silicone for a number of reasons. Silicone cake pans can be baked at high temperatures, and they are also cold tolerant, allowing bakers to chill or freeze cakes in the pan. It is extremely easy to unmold a cake from a silicone cake pan, since the material is inherently non-stick, and can simply be peeled away from the cake. Silicone can also be washed in a dishwasher, and it tends to stay cleaner than metal, since it does not attract grease and grit like many metal pans do over their lifetime.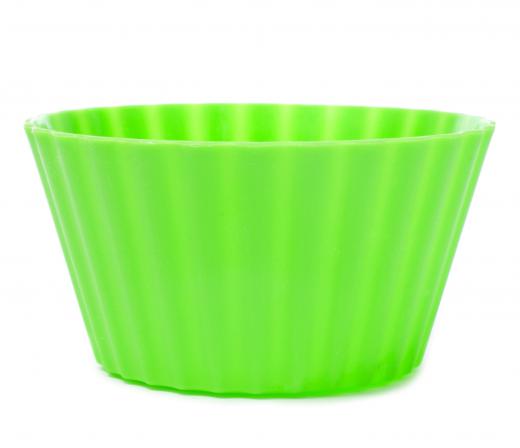 Shape is an important question. Typical cake pans are round, square, or rectangular. But you may want to be able to make novelty cakes, in shapes like hearts, diamonds, animals, triangles, or other geometric patterns. A novelty cake pan may not be used as much as traditional cake pans will be, but it makes the creation of oddly shaped cakes much easier. Rather than baking a cake in a traditional cake pan and trimming it to shape, you can just bake it in a novelty pan and focus on frostings and decorations.
Size is another issue when it comes to choosing cake pans. Many bakers like to have an assortment of sizes, allowing them to make tiered cakes, or personal cakes designed for one or two people. It also helps to have multiple cake pans of the same size, for making layer cakes.
When seeking out cake pans, think about the type of baking that you do, and how often you bake. If you do not bake that frequently, a small assortment of cake pans in two or three shapes and sizes is probably appropriate, along with doubles of a medium sized round or rectangular pan for making layer cakes. If you bake frequently, or want to be able to, you will want a wide range of cake pans to choose from.
AS FEATURED ON:
AS FEATURED ON:

By: benbro

Chocolate cake.

By: nito

Silicone has become a popular choice for bakeware.

By: Berna Şafoğlu

Classic cake pans are often made of metal.

By: Diana Vyshniakova

It helps to have several cake pans of the same size in order to make layered cakes.