What Should I Consider When Buying a Dining Table?
A dining table can be many things to many people. For some, it is a table that sits elegantly in a little-used room that enjoys human company only on holidays and special occasions. For others, it is the table off of which they eat all their meals each day. For still others, the table might serve not only as a place for meals, but also as a desk and work area. When buying one, you'll want to consider a number of factors, including its size, style, and functionality.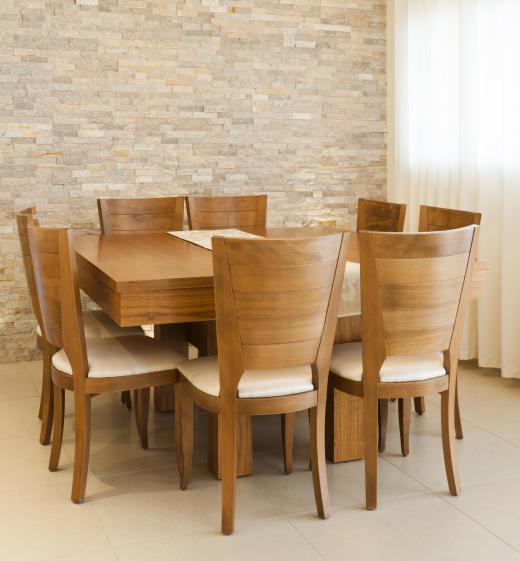 The first detail to consider when buying a dining table is size. A good rule of thumb is to allow 48 inches (122 cm) from the edge of the table to the wall of the room. Also, each person sitting at the table should be at least 24 inches (61 cm) from each other.
If the dining room is a large, formal room with a china cabinet, chandelier, and elegant carpeting, perhaps a long, table would be appropriate, especially if you commonly entertaining in your home. A less formal home with a large family might also choose a long table, even if the room is a bit smaller and becomes filled when the whole family sits down together. Perhaps a small family that chooses not to entertain would like an intimate meal at their dining table, even though the dining room is large; a smaller table is fine, and the rest of the room can be filled with a settee or love seat, or perhaps a buffet table. Some people choose to put the table into a large, country-style kitchen, rather than the dining room, and again, its size usually depends on the size of the kitchen.
Style is nearly as important as size, because how the table looks says something about the people living in the home. Differently styled tables can be found to suit nearly every preference on the planet. You can find anything from a pine, country table with shaker style, ladder-back chairs to a bulky, cherry wood table with Chippendale claw-foot chairs, and all styles in between. The table does not have to match the style of the home exactly. A family with a formal, Victorian home might choose a more casual table to fit their lifestyle, while someone living in a small apartment might opt for a more formal dark oak table with Queen Anne chairs.
The table should be functional as well as attractive and stylish. It might be used as a part-time desk for office work, for students doing homework, or for meetings held in the home. If the dining table will be used regularly for activities other than eating, consider a sturdy wood with a strong finish to protect the table.


By: chris32m

Small families may choose a small dining table for everyday meals.

By: Dmitry Pistrov

A sleek, modern dining room table.

By: Kurman Communications, Inc.

For entertaining purposes, choose a larger, more formal table.

By: .shock

A person who throws many holiday and other parties may want to invest in a dining table that can double as a buffet table.