What is Whole Wheat Pasta?
Whole wheat pasta is pasta that has been made with whole wheat flour, meaning that the flour includes the bran and germ in addition to the endosperm of the wheat. This pasta is higher in fiber and nutrients than pasta made with white flour, and it has a markedly different texture and flavor. Some people find that it is not to their taste, thanks to the strong flavor, because this pasta does not play well with all pasta sauces. Consumers often choose whole wheat as a healthier alternative to conventional pasta, although the differences between the two are sometimes minimal, while others simply like the flavor.
Most markets carry whole wheat pasta, typically in a range of shapes and sizes. Whole wheat spaghetti is a common option, but pasta shapes like penne are also available, as are other flat noodles. It is also possible to this pasta at home, replacing all or part of the flour in a recipe with whole wheat flour and then making the pasta as one would normally.
Regular pasta is made with flour ground from the endosperm of the wheat alone, with the bran and germ being discarded. This results in a smoother product with a more mild taste. In the case of whole wheat pasta, the pasta has a strongly nutty flavor from the bran and germ of the wheat, and it can be grainy or gritty, depending on how well the flour was processed. It can also be tricky to cook, as it is more likely to fall apart during the cooking process. It is important to simmer the pasta, rather than aggressively boiling it, or it will start to break up in the cooking pot.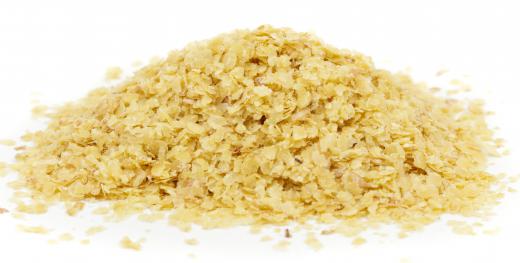 In addition to whole wheat, it is also possible to find multigrain pasta, which may use several grains in addition to or instead of wheat. Multigrain pasta tends to be even more high in fiber and nutrients, thanks to the diverse grains used, and it can include a variety of grains from spelt to rye. For people who eat a gluten-free diet, multigrain pasta is sometimes gluten-free, although reading the label closely is a very good idea.
The important thing to remember when working with whole wheat pasta is that it has a very strong flavor. Delicate sauces do not pair well with it because they will be overwhelmed by the pasta, and watery sauces are also not a good idea. Instead, cooks should use hearty, chunky sauces that will be complemented by a nutty flavor. Some cooks also enjoy using it in Asian cuisine, throwing it into stir fries, curries, and other noodle dishes.
AS FEATURED ON:
AS FEATURED ON:

By: nito

Uncooked whole wheat spaghetti.

Wheat germ gives whole wheat pasta a nutty flavor.

Wheat ears along with a small pile of wheat kernels (also known as wheat berries).

Whole wheat orzo.

By: Studio Gi

Whole wheat pasta is made from whole wheat flour.

By: torsakarin

Whole wheat pasta add a.

By: Elzbieta Sekowska

Unlike regular pasta, whole wheat pasta retains the wheat germ during processing.

By: Viktor

Whole-wheat pasta can be made into a variety of shapes and sizes, including penne pasta.