Wealth planning is a term used to describe a number of financial services that are used to help a person retain the wealth he or she already has, gain more wealth, and efficiently plan the use of existing wealth. Obstacles to retaining wealth include poor financial planning, liabilities, and after-death estate taxes. As wealth planning can be complicated and often involves legal processes, most people see a wealth planning or wealth management professional for wealth planning services. Sometimes wealth planning can be called wealth management or estate planning. The types of financial planning involved in this type of planning are many, but include budgeting, estate planning, and retirement planning.
A basic part of wealth planning is smart budgeting. Without a handle on spending and an understanding of investment, an individual can lose wealth quickly. Planning can help an individual or family plan a budget and control spending, often by identifying long-term financial goals that everyone can work to achieve. Financial planning can help identify unnecessary spending or possible savings that could help stop a gradual and pointless loss in wealth. Budgeting can help an individual with an unclear vision of his financial future define his financial goals and plan the steps necessary to achieve them.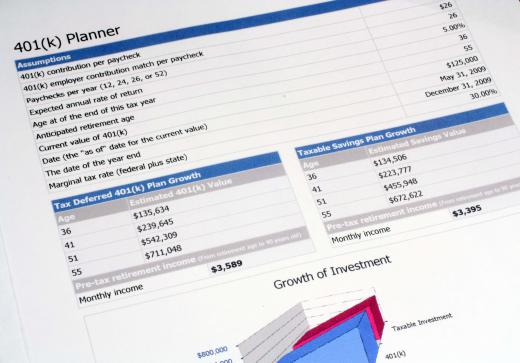 Estate planning mainly consists of after-death wealth plans that center on avoiding taxes that are required to be paid on an estate when it is transferred to its new owner after death. Financial plans for retaining wealth may also include plans to distribute money before and after death so the estate retains as much wealth as possible. A financial representative may also be designated in case the original owner of the wealth can no longer make decisions. Techniques for avoiding estate taxes include life insurance, trusts, and gifts assigned before death. Typically, trust, wealth, or estate lawyers handle this type of wealth management.
Retirement is an integral portion of planning wealth. Though many people feel that they do not need to save for retirement until they are middle aged, beginning retirement planning early has shown to build money faster, allowing a person to retire earlier with more money than late savers. Usually, an individual investing for retirement puts money into investments as well as savings to help grow the retirement fund. Types of investments used by individuals saving for retirement include 401(k), stocks and bonds, and certificates of deposit (CD). Of these, 401(k) is the most popular form of retirement investment.
AS FEATURED ON:
AS FEATURED ON:

By: maxexphoto

401(k) plans are particularly popular.

By: Ken Mellott

Wealth planning includes preparations for retirement.

By: Rido

Many individuals choose to meet with a financial professional to discuss their wealth planning needs.