Vintage tatting is a craft involving the use of knotted and looped threads to create lacy patterns. People can use the term "vintage tatting" to refer both to tatted items made historically and collected as objects of interest, and objects made in the modern era to imitate historic patterns and techniques. Tatted work can be used to trim garments, create doilies for the table, and in other decorative arts, and handmade tatting can require a significant amount of labor, making it a costly and treasured item.
Numerous fiber crafts involving knotting and looping thread have been practiced in various human cultures, with tatting appearing to originate in the 19th century. Originally, tatting was done with a tool known as a tatting shuttle to manipulate the thread. Tatters today may use needles or hook and eye assemblies, depending on their preference. In all cases, the thread can be twisted and knotted in a variety of ways to create the desired patterns, and a finished tatted piece will have a lacy appearance, with a variable pattern.
The definition of "vintage" when it comes to collector's items tends to shift over time, but generally refers to pieces produced at least 50 years ago, while antiques are more than 100 years old. Vintage tatting may be machine or hand made, and is considered an object of interest because it represents historic patterns and tatting techniques. People who collect vintage tatting typically store it in a safe place for its historic value, rather than using it, and may display certain items of interest.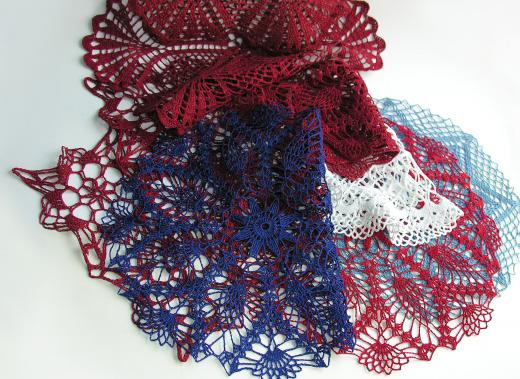 In terms of modern pieces, vintage tatting involves making pieces with techniques that would have been used by earlier generations of tatters, and following patterns used during prior eras. Modern patterns and techniques are avoided to create a vintage or antiqued look, and people may also choose to work with supplies and thread that would have been available to tatters working 50 or more years ago. Tools for vintage tatting are available from some craft stores, along with patterns people can use to develop their projects.
In addition to being used in crafts, vintage tatting is also sometimes employed in occupational therapy. Knotting and working with thread can provide people with better fine motor skills in addition to giving people projects to focus on and measure their progress with. People in psychiatric care may engage in tatting and similar crafts as part of their therapy, as can people recovering from injuries and strokes who want projects to work on.
AS FEATURED ON:
AS FEATURED ON:

By: Julia Keller

Vintage tatting creates lace that imitates historical patterns or techniques.

By: Maria Brzostowska

Tatting can be used to make doilies.