Vichyssoise is a French-inspired soup made with potatoes and leeks. It's served cold, and it may be garnished with snipped chives or parsley. This classic French-style soup is very easy to make at home, and many people find it enjoyable hot as well as cold, although purists may frown on serving the soup warm. It is also available in many some restaurants and cafes, especially those with French pretensions.
Despite the name, vichyssoise is not "of Vichy" at all. The soup appears to have been the invention of Louis Diat, a famous chef who worked at the Ritz Carlton in New York. Diat claimed to have developed the soup in 1917, crediting a potato and leek soup from his childhood which he liked to cool with milk. The combination of pureed potatoes, leeks, and cream is hardly Earth-shattering, and people have probably been making various versions of this soup for centuries, although Diat may have been the first to serve it intentionally cold.
Incidentally, the name of this soup is pronounced "vish-ee-swaz," not "vish-ee-swah," as many people mistakenly pronounce it. Some films have made a joke out of the mispronunciation of this soup, along with the fact that it is served cold, suggesting that people without culture will be surprised when their soup arrives at the table cold. Vichyssoise has also been credited as the introduction to French-style cuisine by many people, including some famous cooks.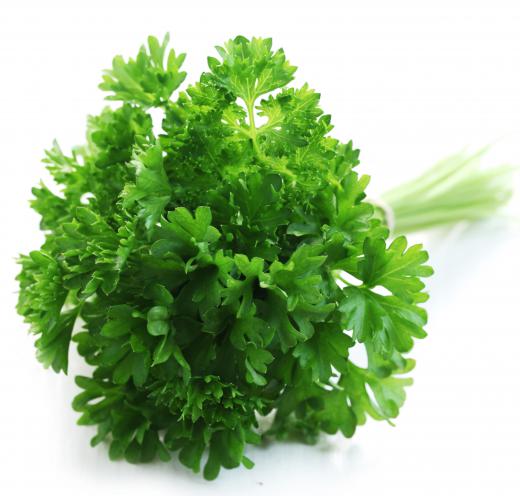 There are a number of ways to play around with this soup, for people who are feeling bold. For example, cooks can use toasted crostini, shredded dried fish, sour cream, crispy fried leeks, or even pickled beets as a garnish. The flavor of the soup can also be adjusted with various spices, such as nutmeg for a hint of sweetness.
If you're interested in making a batch of vichyssoise for yourself, start by frying some sliced leeks and onions in oil and a small amount of butter. Add loosely chopped potatoes and chicken or vegetable stock. Boil until the ingredients are soft before adding cream or a non-dairy alternative for vegans, and season with salt and pepper to taste. Puree everything before serving, and garnish as desired.


By: Monkey Business

Vichyssoise is served warm or cold.

By: mbongo

Potatoes are a key ingredient in vichyssoise.

By: wjburgwal

Leeks are a main ingredient in vichyssoise.

By: Barbara Pheby

Vichyssoise can be garnished with parsley.