What is Tribulus Terrestris?
Tribulus terrestris, also known as puncture vine, is a traditional herbal remedy of China and India. The herb is normally used as a natural alternative to hormone therapy. It has also been used to increase athletic performance.
The most common ailments treated with the herb are those of a sexual nature. Infertility is the largest condition warranting use of tribulus terrestris. General use of the herb may lead to a heightened state of sexual awareness and increased sexual behavior, making it a known aphrodisiac. Increase in breast size may be another effect from use of the herb.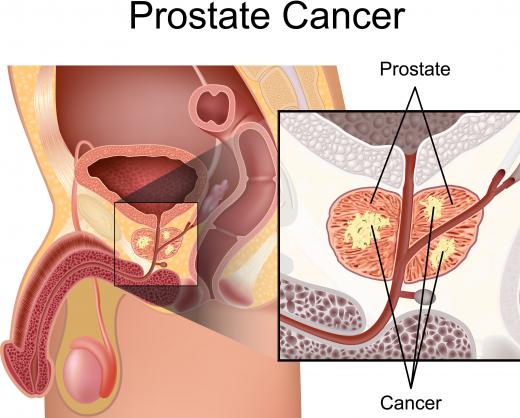 Erectile dysfunction and low libido are thought to be aided by the home herbal remedy. Use of the herb may create prolonged erections as well. Some men take the supplement to increase their sexual stamina and vigor. The remedy may also serve as a diuretic as well as a remedy for side effects associated with male menopause.
Levels of testosterone, estrogen, and DHEA may possibly be increased through the use of puncture vine. The active compounds that make tribulus terrestris effective are found within the herb's leaves. These compounds, known as steroidal saponins, exist in two forms, spirostanol glycosides and furostanol glycosides. The herb has been used in mainstream European medical treatments since 1981.
People with breast cancer, prostate cancer, or other hormonal conditions should refrain from using tribulus terrestris. Nursing or pregnant women should avoid the herb as well. A typical dose of the herb is usually between .003 to .009 ounces (85 to 250 milligrams) daily. The supplement should be taken with a meal.
No toxic side effects have been identified with tribulus terrestris use. Reported cases of averse effects are very rare and mild. Some takers of the remedy report experiencing upset stomach, usually from having taken the supplement without food.
In athletic use, tribulus terrestris has been used in North America, Europe, and other areas. During the mid-1990s, Olympic athletes from Eastern Europe admitted to using the herb. Though Bulgarian athletes have used the herb for sports performance for many years, use of the herb has been found to have no bearing on actual sports performance or body composition within clinical trials.
Some of the herb's other names include burra gokharu, cathead, goathead, and caltrop. A weedy species, it is also known as yellow vine. Those who use the herb in India may know it more commonly as bhar-gokharu, hatticharatte, selusaran, or bhaankadi.


By: Monkey Business

Tribulus terrestris may be used to treat infertility.

By: peterjunaidy

Men with prostate cancer should not use tribulus terrestria.

By: Ambrose

Tribulus terrestris may be used to treat erectile dysfunction and low libido in males.

By: Boggy

Use of tribulus terrestris may lead to heightened sexual awareness and increased sexual behavior.

By: maya2008

DHEA is a hormone that is produced naturally in the adrenal glands.

By: nebari

Taking tribulus terrestris without food may cause upset stomach.

By: polinaloves

Pregnant women should avoid tribulus terrestris.