What Is the Role of Meditation in Islam?
There is a long tradition of meditation in Islam, and it can have many different roles in daily life. Some acts of meditation are meant to clear the mind, allowing for acceptance of teachings that might have been learned during the day. Some forms of meditation, such as the salat, or formal prayers, are meant to bring a person into closer contact with Allah. Contemplative meditation on a topic can be used to attain knowledge or understanding and is one of the most respected practices in Islam. There also is a philosophy that the ultimate goal of performing meditation in Islam is to achieve a meditative state that persists throughout the day and into sleep at night.
The history of meditation in Islam begins with the prophet Muhammad. While staying in the city of Mecca, he would visit a nearby mountain and find a cave there. He would meditate in the cave, seeking knowledge, understanding and closeness with Allah. It was during these meditations that he started to receive the revelations of the Quran.
The salat also is considered a form of meditation by some. This is a series of formal prayers that are performed at five specific points in the day. Performing the salat does not begin until the person is already at peace and in a semi-meditative state. The repetition of words and movements is very much like other forms of meditation that are performed around the world. While the salat is primarily done to commune with Allah and to give thanks, it also helps to clear the mind and brings a sense of peace to worshipers before they face the turmoil of rest of the day.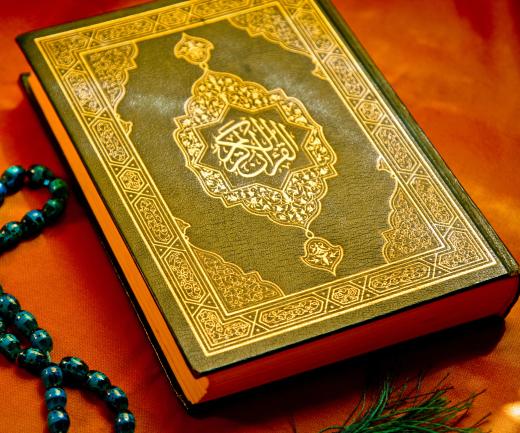 Tafakkur, which can be loosely translated to mean "contemplation," is a form of meditation in which the mind is turned inward to examine and understand different aspects of life. The term is mentioned in the Quran and is intended to help a person to better understand and know himself so, in turn, he can better know Allah. There are different practices, such as Quranic and breath meditations, associated with tafakkur.
The role of meditation in Islam is one of aiding in the discovery of knowledge and understanding. Several verses from the Quran show that knowledge is of great value to the religion and is a way to help understand Allah and the world. The prophet Muhammad even taught that the value of contemplation was equal to or more valuable than that of just worship.
AS FEATURED ON:
AS FEATURED ON:

By: Eray

Some forms of meditation, such as prayer, or salat, bring a person closer to Allah.

By: Egypix

Muhammad started receiving the revelations of the Quran during meditation.

By: Aleksandar Todorovic

Observant Muslims pray five times a day, facing Mecca.

By: Moreno Soppelsa

White staying in the city of Mecca, Muhammad would meditate in a cave, hoping to find knowledge and wisdom.

By: Andres Rodriguez

Some meditation is used to clear the mind.