What is the Mojave Desert?
The Mojave Desert is a large desert in the southwest United States that encompasses much of southern California, some parts of central California, and parts of Arizona, Nevada, and Utah. Named after the Mohave Native American tribe, the Mojave Desert's borders are loosely defined by the presence of Joshua Trees, which are a native species to the area. More concretely, the Mojave Desert is bordered by the Tehachapi, San Gabriel, and San Bernadino mountain ranges.The Sonoran desert acts as a boundary to the south and east.
Though the Mojave Desert is known for its sky high temperatures, the desert has four distinct seasons and can get quite cold in the winter. It is not uncommon to see temperatures plummet to below 20 degrees Fahrenheit (-7 degrees Celsius), and even below zero degrees Fahrenheit (-18 degrees Celsius) in higher regions. However, winter temperatures have also been known to reach 80 degrees Fahrenheit (27 degrees Celsius). Snow is rare in the lower and middle elevations of the Mojave Desert, but snow can certainly occur in the higher elevations. The area receives less than ten inches (25.4 centimeters) of rain per year.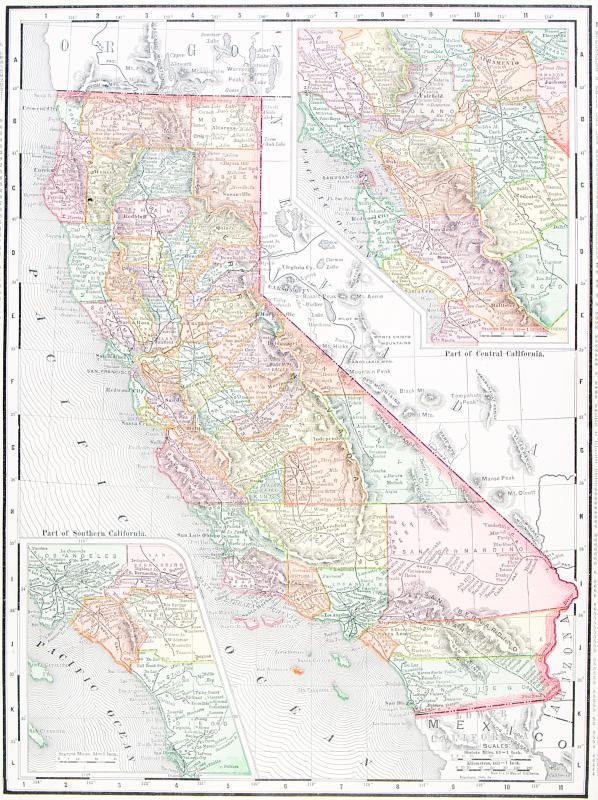 Death Valley lies within the Mojave Desert. This valley is the lowest and hottest region in North America, at nearly 300 feet (92 meters) below sea level. Temperatures can surpass 120 degrees Fahrenheit (49 degrees Celsius) in the summer. Today, Death Valley is part of Death Valley National Park, the hottest and driest national park in the United States. Joshua Tree National Park also lies within the desert's boundaries, contributing to the area's high number of tourist visitors each year. The highest point in the Mojave Desert is Charleston Peak, which reaches 11,918 feet (3,633 meters) above sea level. This swing in elevation accounts for some of the wild weather the region receives.
While the Mojave Desert is generally sparsely populated, several urban centers and small towns do exist in the region. The largest of these centers is Las Vegas, Nevada, which attracts tourists to the hot, dry climate because of legalized gambling and other attractions. Palmdale, California is also a larger city within the Mojave, but other towns in the desert are much smaller: Bullhead City and Kingman, both in Arizona, have populations of 40,000 people or less. Several major highways and roads cross the desert, including Interstate 40 and Interstate 15. Historic Route 66 also crossed part of the desert at one time, but most of the towns and road fell into disrepair once the interstate was built.