What Is the Macula Densa? (with pictures)
The macula densa is a collection of cells in the kidney that aid in the control of blood pressure and blood volume in the body. The cells of the macula densa are highly specialized and densely packed in the distal tubule of the first filtration point in the kidney, the glomerulus. These cells detect changes in the concentration of sodium chloride in the blood and send signals to other kidney cells to act in order to keep the glomerular filtration rate (GFR) steady. The glomerular filtration rate is the rate at which the kidneys remove waste products and excess fluid by filtering the blood.
When sodium chloride levels get too low, the condition is detected by these cells. Low levels of sodium chloride, or salt, indicate that blood pressure has decreased and the kidneys need to absorb more ions and fluid to bring blood pressure back to normal. The process by which the macula densa cells communicate with other glomerular cells is not fully understood, but the signals sent have two distinct consequences.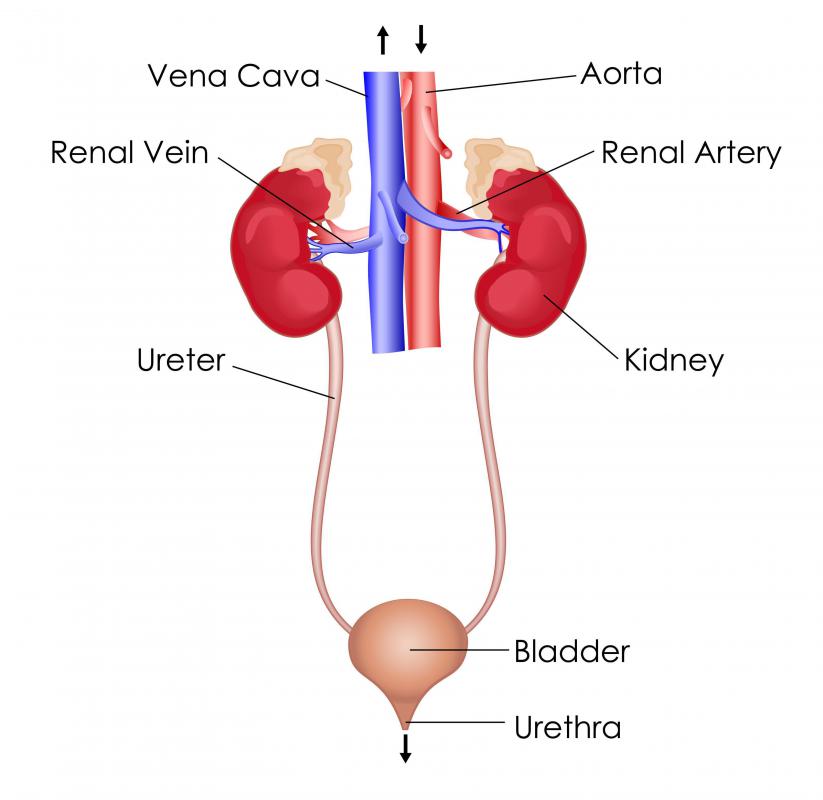 First, the blood flow in the arterioles bringing blood toward the kidney's Bowman's capsule begins to meet with less resistance. This makes the pressure in the glomerulus higher than the pressure in the arterioles, encouraging increased reabsorption of ions and water. Secondly, the macula densa initiates the release of renin from the kidney's arterioles. Renin is an enzyme that plays an important role in blood pressure and blood volume regulation as part of the renin-angiotensin-aldosterone system (RAAS). Renin is discharged because of the action of prostoglandins released by the cells.
The macula densa is one of three structures that make up the juxtaglomerular apparatus, a small part of the kidney anatomy that controls the nephron. The two other types of cells in the juxtaglomerular apparatus are juxtaglomerular cells and extraglomerular mesangial cells. Together, these three cell groups work to control glomerular filtration rate and blood flow.
In the maintenance of overall homeostasis within the body, the macula densa plays a key role. Although this collection of cells is anatomically very small, it has a significant function in one of the most complex organs in the body. A delicate balance exhists between filtration and absorption of ions and fluid to ensure that daily body functions can occur efficiently. The volume of fluid outside the cells is processed at least 15 times per day in the body, and thus the significance of this structure cannot be underestimated.
The macula densa is a collection cells found in the kidneys.

The primary function of the macula densa is to regulate blood pressure.

Glomeruli inside the kidney filter blood as part of the process of making urine.

Responding to the amount of sodium in the blood, aldosterone is produced by the adrenal glands, which triggers a sodium-saving response from the kidneys.