What is the Ishtar Gate? (with picture)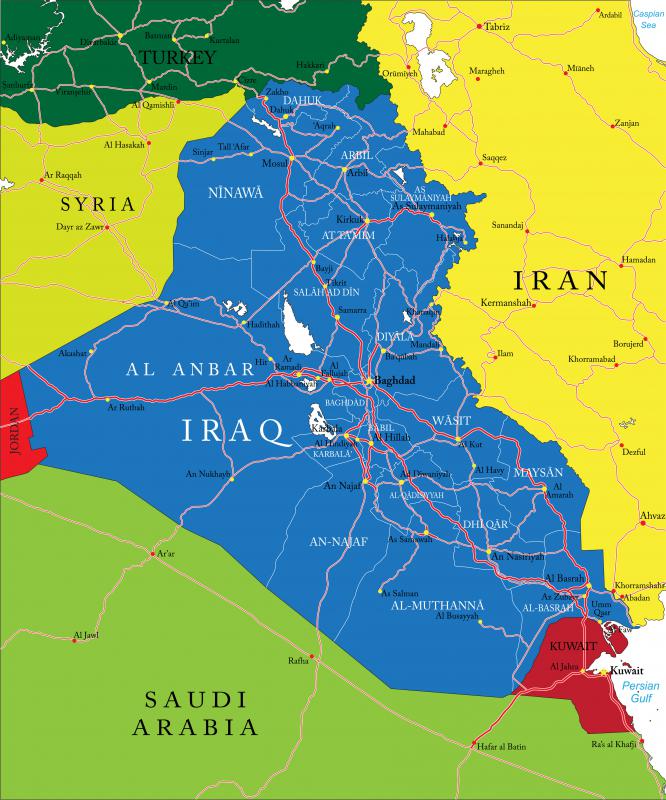 The Ishtar Gate is a formidable structure which once guarded one of the eight entrances into the city of Babylon. Originally thought lost, parts of the Ishtar Gate were unearthed in 1899, and a reconstruction of the gate featuring much of the original material, including the dedication plaque, was completed in the Pergamom Museum in Berlin in the 1930s. Today, several sections of the Ishtar Gate can be found in museums around the world, and visitors to Berlin can see the restored gate for themselves.
Construction of the Ishtar Gate took place around the sixth century BCE, on the orders of Nebuchadnezzar II, a famous ruler of Babylon. Nebuchadnezzar ordered a number of building projects which were designed to honor the Babylonian gods while beautifying the city, and the massive walls and gates of Babylon were among these projects. When completed, the Ishtar Gate would have towered over the walls around it, with decorations in blue and gold tile and a gate built from solid cedar.
This gate was actually a double gate, with a covered promenade known as the processional way stretching from one gate to the other. This promenade is estimated to have been around half a mile (roughly one kilometer) long, and it was also covered, in a roof made from cedar. The walls along the promenade were covered in a motif of golden lions against a blue background, while the outer walls of the gate had depictions of predecessors of the modern cow known as aurochs, along with dragon-like beasts.
The Ishtar Gate was dedicated to the Babylonian goddess Ishtar, who oversees both love and war, and it was a popular site for ceremonial processions and parades. Statues of gods and goddesses could be paraded along the processional way for major religious events, and prominent members of society also participated in such events as part of their religious faith. In its time, the gate was considered one of the marvels of the ancient world, along with the walls of Babylon.
Visiting the Ishtar Gate is well worth it, should you ever find yourself in Berlin. The gate stands 47 feet (almost 15 meters) tall, and it has been carefully restored so that people can get a sense of the original look and feel of the gate. Passing through the Ishtar Gate is also quite an experience, as the architecture and craftsmanship are really remarkable, when one considers the fact that the Ishtar Gate was constructed entirely by hand, and without the benefit or assistance of many modern construction tools.
The Ishtar Gate once guarded an entrance to the city of Babylon, which was located in modern Iraq.