United States
Fact Checked
What is the French Quarter?
The French Quarter is a district in the American city of New Orleans which has long been famous for its myriad attractions and beautiful architecture. Many visitors to New Orleans try to make time to visit the French Quarter, and some even stay within the French Quarter itself, taking advantage of an assortment of accommodation options in the area. For people who are uncomfortable with striking out on their own in a new city, numerous New Orleans firms offer guided tours of the French Quarter.
This area of New Orleans is the oldest section of the city; it is also known as the Vieux Carré, or "Old Square," because of the fact that it was the first ground settled by French immigrants to the area. Originally, the area was laid out in a neat, tight grid which created room for organized expansion, and the city did indeed expand around it, ultimately enveloping it altogether.
In the 1700s, New Orleans fell under control of the Spanish, and shortly thereafter, a fire ravaged the city, leading to an extensive rebuilding effort. Many of the structures in the French Quarter were built in the late 1700s and early 1800s, and they reflect a marked French-Spanish influence, with elaborate moldings, balconies with a great view of the street, arched doors and windows, and a variety of other distinctive architectural features. In 2005, many people feared that the French Quarter would be severely damaged by Hurricane Katrina, but fortunately much of the region remained intact, thanks to its relatively high elevation when compared with other districts of the city.
The modern French Quarter is bounded by the Mississippi River on one side, and Rampart Street on the other, stretching from Esplanade Avenue to Canal Street. Thanks to the efforts of historic preservationists, much of the French Quarter has been kept intact, allowing people to get a taste of what the area would have been like in the 1800s. These efforts have been recognized by the National Parks Service, which has designated the French Quarter as a National Historic Landmark; many of the buildings in the district are also recognized and protected for their historical value.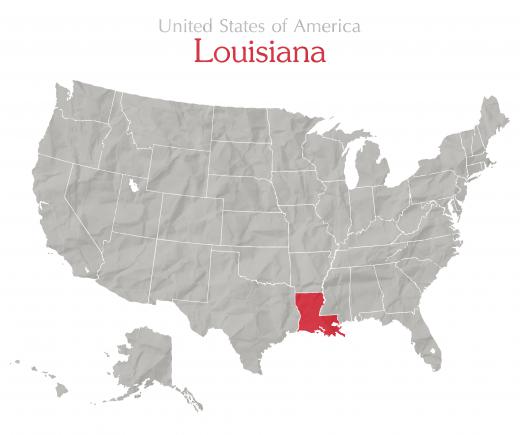 Visitors to the French Quarter can visit an infamous array of bars, along with some of the finest restaurants in New Orleans. Bourbon and Royal Streets offer extensive shopping, and the area also has an assortment of museums where people can learn more about New Orleans and the uniquely colorful culture of the city. The French Quarter is also famous for its music scene, and jazz is often heard wafting around corners in this historic district of New Orleans.
AS FEATURED ON:
AS FEATURED ON:

By: missgrace

Bars and restaurants abound in the French Quarter of New Orleans.

By: Dangubic

The French Quarter is known for its music scene.

By: metrue

The French Quarter is located in the city of New Orleans, and the state of Louisiana.