What Is the Connection between Job Satisfaction and Organizational Commitment?
Job satisfaction may be defined as contentment with one's job. The connection between job satisfaction and organizational commitment is clear. When an employee has allegiance to the employer, his or her productivity increases, turnover rate decreases, and negative behaviors including employee theft also decline. A satisfied employee is typically much more committed to the employer than an employee who is dissatisfied.
Moral considerations can have an impact on job satisfaction and organizational commitment. A satisfied worker may feel a moral obligation to act in a committed way. Continuance commitment, on the other hand, expresses the concept that job commitment hinges on a cost/benefit equation for the employee. In some cases, the employee may feel no moral commitment to the employer.
Many companies engage in a variety of techniques and strategies to improve job satisfaction and raise organizational commitment levels with staff members. These include team-building strategies, in which employees work together in a way that creates a tightly knit bond. Those who feel strongly attached and connected to the workplace typically tend to feel more of a calling to their profession, and a higher commitment level to the organization in general.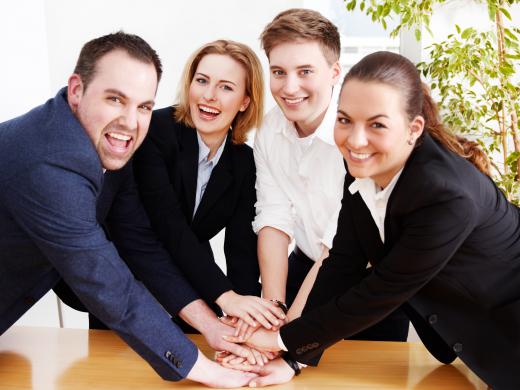 Financial rewards are not the only determining factor in job satisfaction. Employees often place a significant value upon their relationships in the workplace. In addition, fringe benefits may sometimes be just as important to an employee as financial compensation. Some companies demonstrate their commitment to employees through providing ancillary services like subsidized lunches, rewarding achievers with extra time off work, and providing family support services like on site childcare.
One way for a company to increase job satisfaction is to offer an appropriate and effective compensation plan. Secretive payment schemes, arbitrary compensation policies, and a perception of the boss playing favorites are all ways to plant the seeds of discontent. Compensation specialists are sometimes brought into a company to perform a compensation review. This ensures that compensatory practices are fair and competitive within the company's industry sector, leading to increased loyalty and commitment to an organization.
Interpersonal conflicts potentially may have a negative impact on employee satisfaction, and lower a worker's commitment to an employer. If the employee experiences harassment and the employer does not address the problem, the worker's commitment may fade in the face of the need for self-preservation. Having clear policies regarding workplace harassment has been linked to higher levels of job satisfaction and organizational commitment.
AS FEATURED ON:
AS FEATURED ON:

By: Halfpoint

Events such as office parties may contribute to employee satisfaction.

By: Karin & Uwe Annas

Team-building stategies may help create a higher commitment level to an organization.

By: michaeljung

Interpersonal conflicts may have a negative impact on employee satisfaction.