What is Employee Satisfaction?
Employee satisfaction is a measure of how happy workers are with their jobs and working environment. Keeping morale high can be of tremendous benefit to any company, as happy workers are more likely to produce more, take fewer days off, and stay loyal to the company. There are many factors involved in improving or maintaining high satisfaction rates, which wise employers would do well to implement.
To measure employee satisfaction, many companies do mandatory surveys or face-to-face meetings with employees to gain information. Both of these tactics have pros and cons, and they should be used carefully. Surveys are often anonymous, allowing workers more freedom to be honest without fear of repercussion. Interviews with company management can feel intimidating, but if done correctly, they can let the worker know that his voice has been heard and concerns addressed by those in charge. Surveys and meetings can often get to the center of the data surrounding employee morale, and they can be great tools to identify specific problems.
Many experts believe that one of the best ways to maintain satisfaction is to make workers feel like part of a family or team. Holding office events, such as parties or group outings, can help build close bonds among employees. Many companies also participate in team-building retreats that are designed to strengthen the working relationships in a non-work related setting. Camping trips, paintball wars and guided backpacking trips are versions of this type of team-building strategy, with which many employers have found success.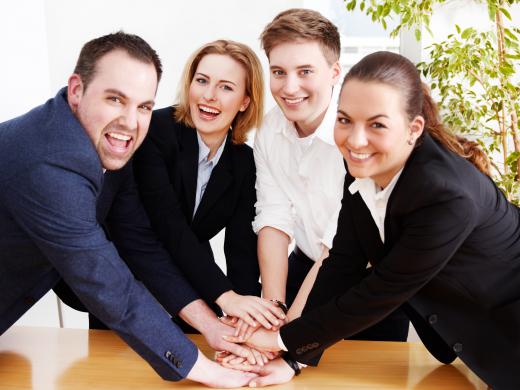 Of course, few workers will not experience a boost in morale after receiving more money. Raises and bonuses can seriously affect employee satisfaction, and should be given when possible. Money cannot solve all morale issues, however, and if a company with widespread problems for workers cannot improve its overall environment, a bonus may be quickly forgotten as the daily stress of an unpleasant job continues to mount.
If possible, companies should provide amenities to their workers. They should make certain that employees have a comfortable, clean break room with basic necessities such as running water. Facilities such as bathrooms must be kept clean and stocked with supplies. While an air of professionalism is necessary for most businesses, allowing workers to keep family photos or small trinkets on their desks can make them feel more comfortable and nested at their workstation. Basic considerations like these can improve satisfaction, as workers will feel cared for by their employers.
The backbone of employee satisfaction is respect for workers and the job they perform. In every interaction with management, employees should be treated with courtesy and interest. An easy avenue for employees to discuss problems with upper management should be opened and carefully monitored. Even if management cannot meet all the demands of employees, showing workers that they are being heard and putting honest dedication into compromising will often help to improve morale.
AS FEATURED ON:
AS FEATURED ON:

By: zimmytws

Employee satisfaction is sometimes evaluated through face-to-face meetings, or through a survey.

By: Karin & Uwe Annas

Fostering a team spirit in the work place is good for employee morale.

By: Halfpoint

Events such as office parties may contribute to employee satisfaction.

By: CandyBox Images

Companies sometimes participate in team-building retreats.

By: Rido

An employee who is dissatisfied with their job may have difficulties focusing on work.