Tetrazzini is a savory, hot dish made with pasta, mushrooms and cream sauce. The recipe normally calls for the addition of either chicken or turkey, in which case the dish becomes turkey tetrazzini or chicken tetrazzini. Less common variations include the addition of ham, seafood or tuna instead of poultry. Some variations may also include chopped red bell pepper, celery, almonds or peas.
Though the type of pasta used in tetrazzini can vary from long cuts of pasta like spaghetti; to short cuts, like rigatoni; to decorative shapes, like Farfalle; traditionally, tetrazzini uses a long, thin cut of pasta such as vermicelli, angel hair or thin spaghetti. Regardless of the pasta type, it should be cooked until it reaches the al dente state, which means the pasta should slightly resist a bite when done. Some, however, prefer their pasta completely soft.
As for the protein in the dish, boneless fillets of chicken or turkey breast are normally preferred. Bone-in poultry will only make the final dish a bit more difficult to eat. After the poultry is sautéed, it is traditionally diced or shredded before adding it to the rest of the dish. If other meats or proteins are used in addition to or instead of poultry, they should also be reduced to bite-size pieces.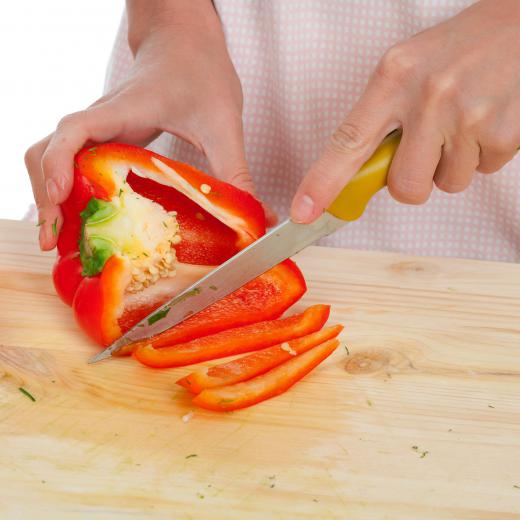 While mushrooms are usually included in all tetrazzini recipes, the inclusion of other vegetables are more optional. Those that do opt for some vegetables in their dishes might include peas, celery, carrots, red pepper, onions, or broccoli. A wholly vegetarian tetrazzini is also possible. Nuts such as almonds may also be included. Regardless of what is included, these ingredients are usually sliced thin or chopped into small pieces.
The cream sauce in tetrazzini also can be made in a variety of ways but it usually starts as a simple rue of butter and flour. White wine and milk or heavy cream may be added as well as aromatics such as onions, garlic and fresh herbs like basil or thyme.
Though much of the preparation happens in separate stages on the stove top — the protein is cooked separately from the vegetables which is cooked separately from the cream sauce — a good portion of the cooking happens in the oven. After the ingredients are sautéed, they are mixed and placed into a cassarole dish to be baked. Cheese and breadcrumbs are often added as a top layer before baking to give the dish some crunch.
Though tetrazzini can be prepared at home, the dish is also available in the frozen food section of most major supermarkets. Several brands are available that use slightly different ingredients. A significant number of restaurants also serve tetrazzini.
Despite its Italian-sounding name, tetrazzini was not invented in Italy or by an Italian. Its historical origins are largely attributed to a chef at the Palace Hotel in San Francisco, California. The dish received its name for the person it was prepared for — the acclaimed San Francisco Opera star Luisa Tetrazzini who was a regular guest at the hotel.
AS FEATURED ON:
AS FEATURED ON:

By: mbongo

Mushrooms are usually included in tetrazzini recipes.

By: Fanfo

A variation of tetrazzini can include chopped red bell pepper.

By: Sasajo

Peas are often added to Tetrazzini to add color and flavor.

By: Studio Gi

Fresh herbs can be used when making chicken tetrazzini.