What is Temporary Hair Dye?
Temporary hair dye typically only lasts a few washes, as opposed to permanent or semi-permanent hair dyes. The dye surrounds the hair, and does not work into the shaft. With both semi-permanent and permanent dyes, hair color tends to last for a long period of time. In permanent dye, any hair that is colored penetrates to the hair shaft and the color will remain, though it may fade slightly. Semi-permanent dyes also remain on the hair, usually for about a month before retouching is required.
There are many types of temporary hair dye. Some are meant to be deliberately colorful and can come in bright blue, green, pink, yellow, or white. Others more replicate true hair colors and could be used to wash out a bit of grey hair or brighten up the tone of hair color. Lots of different application methods exist for applying these dyes. Shampooing color in may be most common, but there can be mousses, gels, or other application methods. Certain products designed to be unisex, while other temporary hair dyes are specifically marketed to men or women.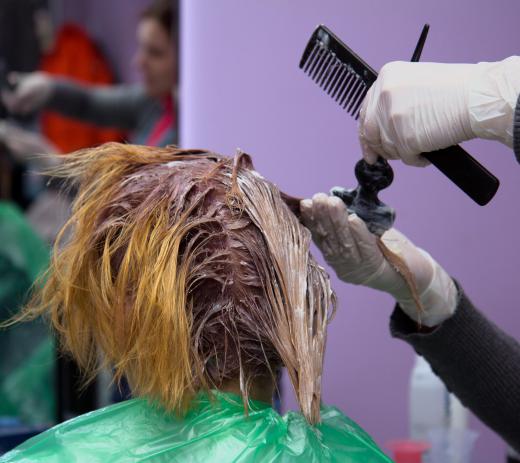 One of the benefits of temporary hair dye is that it takes much less time to apply and to work. Color is transformed in as little as a few minutes. Most temporary hair dyes have a milder smell than some permanent dyes, which often smell of ammonia. This means color application may be gentler on the hair and leave it feeling conditioned instead stripped of color. For those trying out a new color or who aren't good at applying color, any mistakes of temporary dyes begin to fade in just a few days.
The word "temporary" doesn't always mean the same thing. Some dyes wash out just as quickly as they wash in, and others cling persistently to the hair for several weeks. Part of determining which dye is best can be reading labels and to determine how quickly the dye fades out, or in how many "washes" the dye rinses out. Yet it's important to note that people with very light, damaged, porous hair may retain dyes longer. If a temporary hair dye color is unacceptable and isn't washing out, trying a different color of dye or getting help from a professional colorist to fix the look, might be of use.
It's also assumed that temporary hair dye automatically means that people won't have bad reactions due to lack of harsher chemicals. It is still possible to have allergic or skin-sensitive reactions to ingredients in temporary products. Most product packaging suggests doing a skin test first to see if irritation occurs. Should people show signs of irritation after applying dye on the head, they may want to see a doctor to get some assistance. Rinsing the hair several times to remove as much dye as possible may also help.
AS FEATURED ON:
AS FEATURED ON:

By: eillen1981

Temporary hair dye lasts for only a few washes.

By: esp2k

Temporary hair dye only lasts a few washes before coming out.

By: steinerpicture

When dying hair, it's recommended to wear gloves to prevent staining the hands.

By: Valua Vitaly

Temporary hair color in natural tones may be used to wash out gray hairs.