What is Salisbury Steak? (with pictures)
Salisbury steak is a meat dish made by mixing lean ground beef with several ingredients before molding it into a patty and cooking it. From a distance, it does look sort of like a whole steak, although the resemblance is less obvious at close range. This dish is traditionally served with gravy, and it is a common offering in institutions and packaged meals, thanks to the relatively low cost of this dish when compared with all-meat dishes. It is also possible to make Salisbury steak from scratch at home, and some restaurants offer it, occasionally elevating it to a gourmet offering.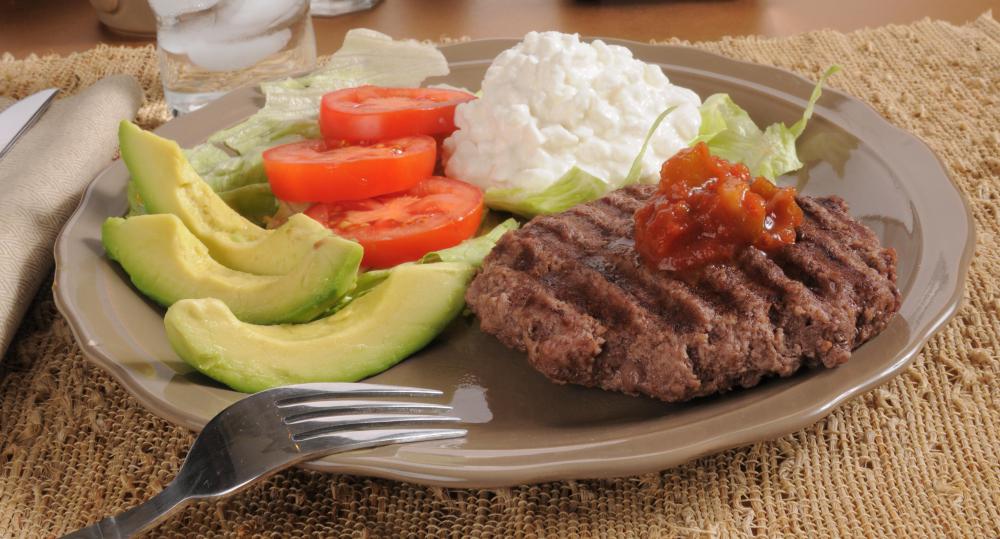 In addition to ground beef, traditional Salisbury steak includes eggs, onions, milk, and bread crumbs, mixed together and pressed into a patty. The patty can be fried, broiled, or baked, depending on the taste of the cook. For accompanying gravy, the pan may be deglazed or the cook may use gravy from another cooking project, and ingredients such as grilled onions or mushrooms may be added as a garnish. Parsley and other green garnishes are also not unheard of.
This dish is also sometimes referred to as hamburger steak. It was popularized in the 19th and 20th centuries as a cheap way to add protein to a meal, since the beef used is typically of low quality, and the mixture of ingredients stretches the meat. The name is a reference to James Henry Salisbury, an American physician who promoted the consumption of beef for the maintenance of general health. Well through the 1960s in America, Salisbury steak was a frequent offering on the dinner table.
Depending on how it is prepared, Salisbury steak can be moist, flavorful, and tender, or wizened and dry. People who have only accompanied this food in an institutional setting are sometimes surprised to learn that it can be quite interesting when prepared by a competent cook with high-quality ingredients, especially if the cook plays around with the basic recipe to add interesting flavors.
Salisbury steak is most commonly found in the United States, its country of origin. It is also served in Japan, where it may be lightened considerably with the use of panko crumbs, rather than heavier American-style bread crumbs, and with the use of very high-grade beef. Some Japanese chefs have elevated this dish to an art form, putting the American versions to shame.
Parsley is often used as a garnish for Salisbury steak.

Salisbury steak is an inexpensive source of protein.

Mushrooms are a common ingredient in the gravy added to Salisbury steak.