Cube steak is a thin cut of beef that is usually composed of top sirloin or top round. Because the cut is usually somewhat tough, it is advisable to employ some means of tenderizing the cut before actually preparing the steak. The tenderizing can be accomplished by using a meat mallet or an electric tenderizer to achieve the right texture. Once the meat is ready for cooking, there are a number of cube steak recipes that can be used to create excellent entrees that are nutritional as well as low in cost.
A popular cube steak recipe that is easy to prepare requires nothing more than a couple of tenderized cube steaks, salt and pepper, and an onion. After tenderizing the meat, it is placed into a skillet under medium heat, then topped with salt and pepper to taste. The meat is allowed to sear for two to three minutes, then flipped to the other side. Once the steaks are cooked, they are removed from the skillet, and thin slices of the onion are sautéed in the drippings until they begin to caramelize. The tender onion strips are arranged on top of each steak, making for a simple but appealing presentation.
Cube steak can also be used as stew beef in soups and stews. In order to ready the meat for the soup, tenderize using a meat mallet, and then dice the meat into small sections. Pan fry the sections, then add to the simmering soup stock. It is possible to use cube steak in place of other types of beef or chicken in just about any type of stew, even recipes that are simmered slowly in a crock pot.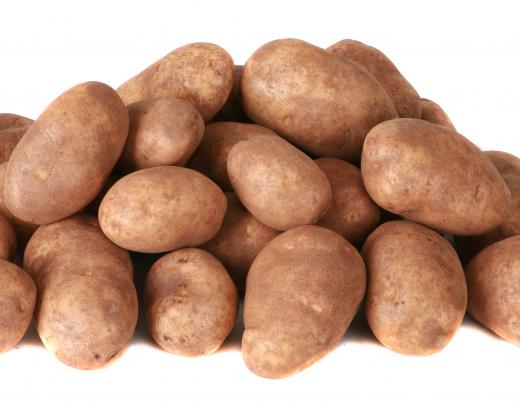 There is also a wide range of other cube steak crock pot recipes that are found online and in various cookbooks. Because the steak is relatively inexpensive, it can be utilized to create a crock pot dish that is much like slow cooked roast and potatoes, or even as seasoning in a cream-based soup with rice, creating a filling entrée that costs very little per serving.
Chicken fried steak is commonly made with cube steak. The basic recipe calls for coating the tenderized section of meat with a thin flour-based coating, then deep frying the steak to a golden brown. Gravy is used to top the fried steak, with the entrée often served with potatoes and some sort of green vegetable.
Cube steaks can also be used in baked dishes. One example is a simple meal prepared in the Southern region of the United States. Known as a hobo dinner, the dish includes slices of potatoes, carrots, and onions, layered in a casserole dish. Four cube steaks are tenderized, seasoned, and placed on top of the vegetables. After covering the dish with aluminum foil, it is baked in a hot oven for thirty to forty five minutes. The end result is a simple meal for four that is both filling and cost-efficient.
Cube steak is available at most supermarkets, as well as many butcher shops. While this form of steak was once considered to be a staple for low-income households, its versatility has made it a favorite among all income brackets. There are cookbooks devoted to nothing more than the use of cube steak in a variety of recipes.
AS FEATURED ON:
AS FEATURED ON:

By: VolkOFF-ZS-BP

A meat mallet, which can be used to tenderize cube steak.

By: James Martin

A sliced potato layer is included in a hobo dinner.

By: al62

Cube steaks are usually seasoned simply with salt, pepper, and onion.