Originating in the 19th century, pommes dauphine is the French version of tater tots. Made with potatoes and the same pastry dough used for cream puffs, pommes dauphine are savory, deep fried morsels that can not only be homemade but are also commonly found in the freezer section of French groceries stores — just as tater tots are found in America. Considered rustic, pommes dauphine are not generally found in nicer French restaurants.
Pommes dauphine consists of potatoes, eggs, butter — all thinly sliced or diced — and flour. Salt, pepper, and nutmeg are also generally added to taste. Cooking oil is used as well to deep fry the pastry-potato puffs once made.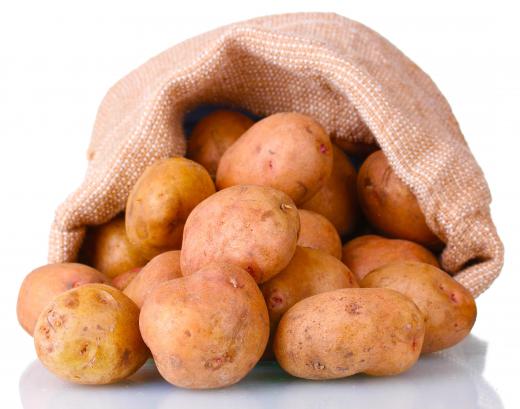 To make pommes dauphine, the potatoes are first boiled in salt water. Once they are soft, they are allowed to cool before being peeled and mashed. Alternatively, they can be peeled before boiling. Once mashed, the potatoes are heated in a pan on very low heat in order to remove excess moisture. When the mash no longer sticks to the pan, it should be removed from the heat.
The water, salt, and butter are heated in a separate pan. When the butter melts, the pan is removed from the heat. Flour is added, and the mixture is energetically stirred until completely combined. Then, it is returned to the heat and dried in the same way as the potatoes.
Once dried, the mixture is again removed from the heat and beaten eggs are added, one at a time, until the mixture has a doughy consistency. Care should be taken not to let the eggs touch the sides of the pan while stirring since the still hot pan may cause them too cook, resulting in a scrambled egg consistency. Afterward, the mashed potatoes are included. The spices are added after the other ingredients have been combined.
When the potatoes, dough, and spices are thoroughly mixed, the dough is portioned into small, tablespoon-sized dollops. These dollops may be place directly into the hot oil for deep frying, but are often placed on a floured tray either using a spoon or a pastry bag. Then, they are added to hot oil in batches and fried until puffy and brown.
Pommes dauphine are best eaten fresh, while they are still warm, but they are easily reheated. They are even microwavable. These potato puffs make a nice, rustic side dish and are excellent when paired with beef, chicken or another juicy meat, because the pastry soaks in the meat's juices.
AS FEATURED ON:
AS FEATURED ON:

By: Africa Studio

Pommes dauphine are made from potatoes.

By: adisa

Pommes dauphine is often found in the freezer section of French grocery stores.

By: MSPhotographic

Pommes dauphine is the French version of tater tots.