What is Picture Editor Software?
Picture editor software is a type of computer program that is used for editing digital pictures and retouching photos. Picture editor software may be used for photos taken with a digital camera and then uploaded to the computer, or one may choose to scan older, non-digital pictures into the computer, and then edit them that way. This software can be very basic and simple or highly complex and difficult to use; be sure to choose the best photo editing software based on one's skills with software and photo programs.
There are a number of different picture editor software programs available in stores and online. It may be best to read reviews of different programs, or to ask store employees for recommendations before making a purchase. These programs vary drastically in price, and it may not be necessary to buy an extremely expensive program just to remove red-eye from a few photos, for example. It may also be a good idea to purchase an additional instructional manual or tutorial program, which can make it easier to understand some of the more advanced features of picture editor software.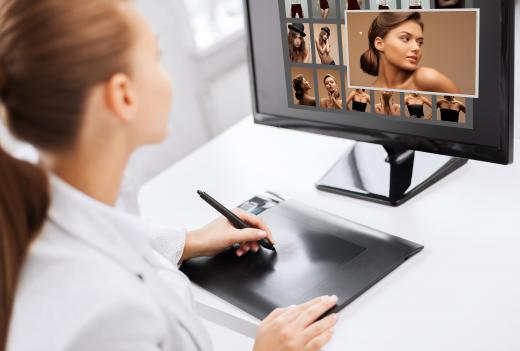 Once the picture editor software is installed on the computer, it may be able to automatically scan the computer for photos, or the user may need to add them manually. At the most basic level, photo editor software will allow the user to make changes to the photo such as removing red-eye or airbrushing a blemish. In addition, it can adjust the light levels in the picture, making it appear darker or brighter, or enhance, sharpen, or soften certain areas of the photo.
The colors of the photos may be adjusted as well in picture editor software; for instance, the user may be able to make the photo appear in black and white, greyscale, or sepia toned. Colors may be enhanced to make the picture look warmer or cooler. Of course, the photo may also be cropped, rotated, zoomed in, and otherwise adjusted. In addition, some picture editor software programs allow the user to add additional items to the photos, such as a printable border, or even superimposed images.
These are just a few of the features that a photo editing software program can offer. Most people who shoot digital pictures, or who want to make changes to older film pictures find that this type of software is very beneficial. With practice, it can become easy to use the software and to better understand the more advanced photo editing features.
AS FEATURED ON:
AS FEATURED ON:

By: Syda Productions

Picture editor software is used for editing digital photographs and retouching photos.

By: stryjek

With picture editor software, a user may be able to make a color photo appear in black and white.

By: nenetus

Cell phone photos typically have a lower pixel resolution and are harder to edit.

By: Deyan Georgiev

Picture editor software can be used in conjunction with any digital camera.