What is Photobook Printing?
Photobook printing is a process by which a photobook is put together and printed. This is typically done through a company that prints photobooks, though people can also print out individual photographs or pages with photos on them and assemble these loose sheets into a book. A photobook assembled in this way is typically somewhat similar to a scrapbook, though it often lacks the texture and detail that additional aspects of a scrapbook provide. Photobook printing can be used for a number of different reasons and is popular for holidays, special occasions, and to commemorate the completion of a long-term project.
A photobook is a type of photo album that is printed as a single, bound volume rather than as a collection of sleeves into which individual photographs can be inserted. There are several different methods of photobook printing, though the most popular are typically the use of a photo service or for a person to make it himself or herself. When a photobook printing service is used, a customer can typically input or upload various photographs he or she wishes to use to create the photobook, and this can often be done online through a website for the service.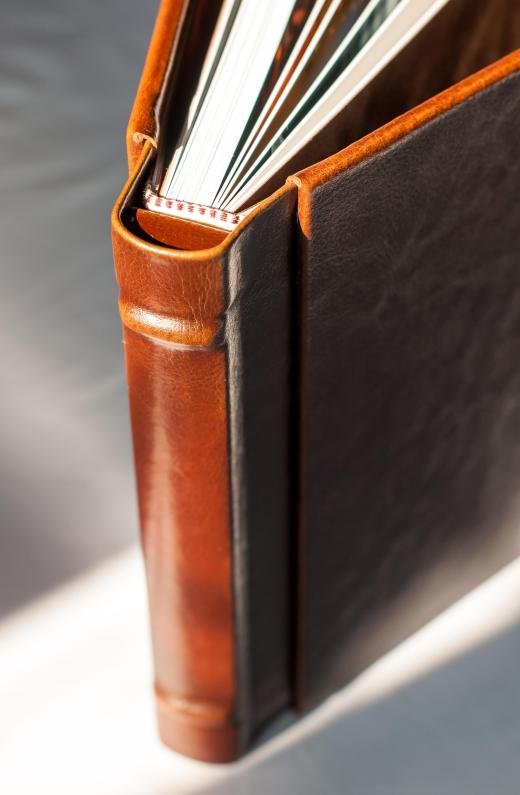 The customer can then use the uploaded photographs to assemble a virtual photobook that represents the final product that will be created through photobook printing. Different services can provide customers with a wide array of different options, though it is common for a customer to be able to choose different covers, patterns for pages, photograph layouts on each page, and to add text to accompany the pictures. Once the photobook is complete, the customer pays for the book, which is then printed and assembled by the service, and can be shipped directly to a customer or picked up at a retail location.
Photobook printing can also be done by someone using a computer and printer. Digital photographs can be uploaded onto a computer, and different programs can then be used to arrange various pictures and text onto a page. Each page can be printed onto plain or patterned paper, which can then be bound together to create a photobook.
There are many different uses for photobook printing, though it is typically done to create a photobook to commemorate a special event. Holidays and occasions such as birthdays, anniversaries, weddings, and retirement can be celebrated through the use of a photobook to document different stages in the life of a person or couple. A photobook can also be used to show how a project developed and was completed over a length of time, such as the construction of a house or the invention of a new product.
AS FEATURED ON:
AS FEATURED ON:

By: SilviuFlorin

The pictures in a photobook are printed on bound pages, rather than being inserted in sleeves.