Photo mounting, in simplest terms, is the process of placing a photo onto something else for display. It can be as creative as the imagination will allow and can be done professionally or at home. A photo can be mounted before framing to create a professional appearance, but this practice is most expressively seen in scrapbooking.
Scrapbooking allows for photos to be mounted in an endless expression of creativity and style. An entire page can be dedicated to a single photo or to many. There are many decorative, coordinating papers and card stocks that can be used for photo mounting in a scrapbook, and the remaining parts of the page can be embellished with any of countless objects, from stickers to ribbons to decorative brads. The options are nearly limitless.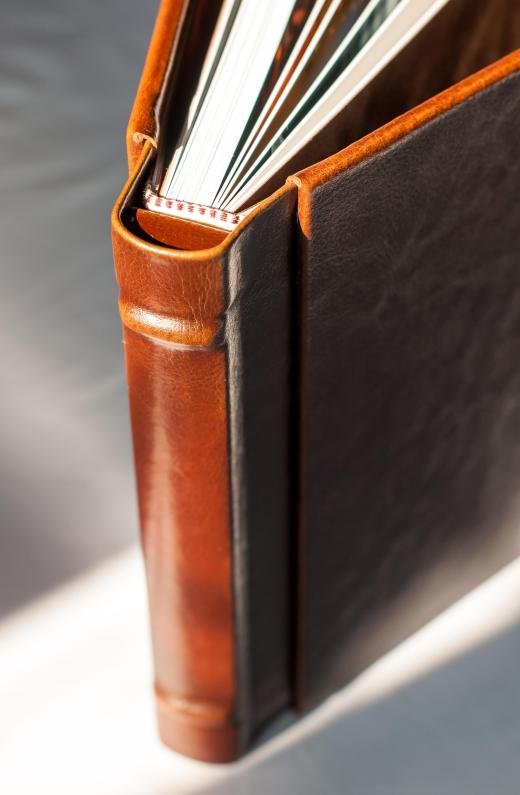 It's important for the preservation of photos to be sure to use the right materials are used to mount photos. Acid-free paper and glue, tape, or whatever sticky substance is used to mount the photo to the paper are essential to prevent damage to the photo. Most craft stores sell all acid-free paper and adhesives for scrapbooking. People should never use plain scotch tape or masking tape to mount photos to any surface, as this will ruin the photo over time.
When mounting a photo or piece of artwork to a mat for framing, it is not necessary to use an adhesive, but it is easier. If an adhesive is used before framing, again it needs to be acid-free. For creative framing, some of the same techniques used in scrapbooking can be implemented. Layered photos using more than one background or embellishing the corners can create a unique piece of wall art suitable for framing.
Those who don't have the desire or creativity to do their own photo mounting can take their photos to a professional who will prepare them for framing. Many people also find that they are limited in the sizes of paper and card stock at retail craft stores and need a professional with access to various sized mats for special occasion photos like wedding pictures or senior class pictures. Someone who wants to prepare photos larger than 8 by 10 inches (20.32 by 25.4 cm) for framing may need to visit a professional artist supply store for the right materials. Many craft and scrapbook supply stores offer classes on mounting and scrapbooking for beginners.
AS FEATURED ON:
AS FEATURED ON:

By: SilviuFlorin

The process of mounting a photo can be very decorative in a scrapbook.

By: tomer turjeman

A variety of photos may be mounted in a scrapbook.

By: Theo Malings

Scrapbookers often cut designs from colorful paper to use as frames for mounted photos.