What are the Different Types of Scrapbooking Techniques?
Scrapbooking is making creatively designed pages to display photographs and other keepsakes. The possible scrapbooking techniques are endless and limited only by the imagination. Some of the most popular types of techniques used in scrapbooking are framing, piecing papers, peekabooing, paper punching, adding stickers and stamping.
Rubber stamps are sold in many different shapes, subjects, styles and sizes. Stamping scrapbooking techniques can add a lot of interesting detail to photograph pages. For example, on a scrapbook album page featuring photos of flowers from a garden, floral themed stampings could be added around the picture at random or placed to form a border. Multicolored ink pads can be used with the stamps. Alternatively, colored pencils can be used to color in the stamped outline; there are also self-inking, multi-colored stampers.
Stickers are popular scrapbook additions. Besides the wide range of subject matter, there are also different finishes such as foil or glitter to add interest to scrapbook pages. One of the most creative scrapbooking techniques is to use small pointed scissors to cut and use portions from different stickers. Textured materials can also be combined with ready-made stickers to create eye-catching accents. For example, metallic thread can be added to balloon stickers to create three-dimensional strings.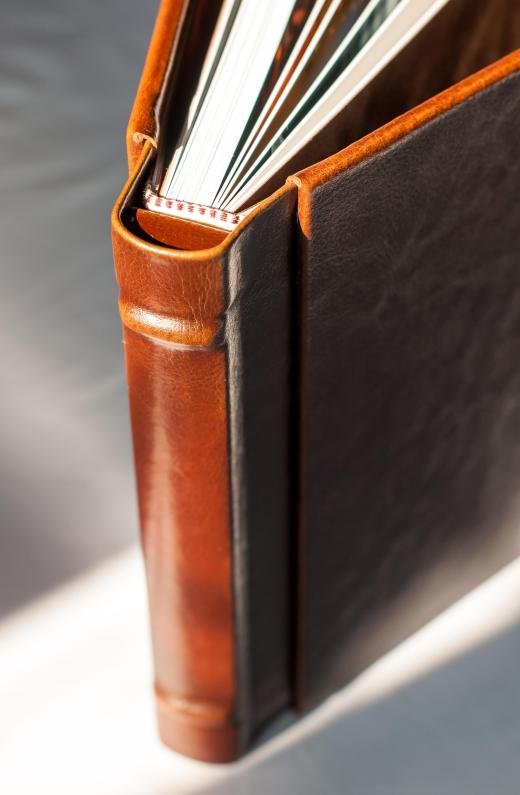 Paper punches make small, confetti-like shapes to use in scrapbooking. Similar to the way a hole punch makes holes in paper, craft punches create cut-outs of a uniform size and shape. The shapes vary from animals to flowers to geometric figures and many others. Both the shapes and the shaped holes that the punch creates can be used to create interesting scrapbooking techniques.
Peekabooing is using a craft knife to make shaped openings in a scrapbook page to reveal parts of other pages. Peekaboo scrapbooking techniques add depth and creativity to photo pages. The cut-out shapes may be straight or curved, or completely free form. Piecing papers together is a scrapbooking technique that resembles quilting in that different shapes are fitted together to form an overall look. Shapes such as squares or triangles cut from scrapbooking papers can be used together to make pieced borders and frames.
Framing can also be done with un-punched papers or specialty materials such as vellum. Vellum is the translucent, frosty looking paper often seen in invitations. It can be torn in strips to make rustically elegant frames around photographs. As vellum is partially transparent, either in white or pastel colors, the edges of the photograph can still be somewhat visible through the frame to give the scrapbook page an interesting look.
AS FEATURED ON:
AS FEATURED ON:

By: arska n

Scissors for scrapbooking.

By: SilviuFlorin

Scrapbooking techniques add embellishments to otherwise plain photo albums.

By: nito

Photographs are often framed or given borders in scrapbooking.

By: Monkey Business

Stickers are the most common types of scrapbooking embellishments.

By: olly

As with all forms of scrapbooking, photographs are often the focus of any digital scrapbooking project.

By: nito

Scrapbookers might use extra materials laying around the house to add finishing touches to a project.

By: Sergey Mostovoy

Twine, clothes pins, and card paper are examples of items that can be found around the house and repurposed for scapbooking.