Pad thai, literally "Thai style frying," is a Thai noodle dish made from stir fried rice noodles with ingredients including egg, peanuts, shallots, sprouts, tofu, and a choice of meat. It is one of the most well known Thai dishes, and can be found at Thai restaurants all over the world. In Thailand, the dish is readily available at roadside stands and in casual dining establishments. It has a lot of ingredients that come together in a symphony of hot, sweet, sour, and salty: the four cornerstones of Thai cuisine.
This dish is typically stir fried in a wok or heavy pan, and in Thailand, it is found in a light, relatively dry form. Outside of Thailand, it is frequently prepared with a large amount of oil, and tends to be greasier. By making pad thai at home, cooks can control the amount of oil used, making the dish to their taste.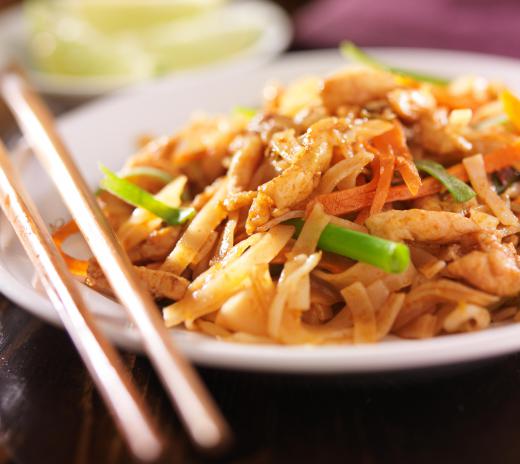 Cooks can make pad thai at home by first soaking rice noodles in warm water. The noodles need to soak for at least 20 minutes so that they will become flexible and a little soft. While the noodles are soaking, the cook can prepare the other ingredients, starting with the sauce. A basic sauce mixes tamarind paste, fish sauce, sugar, lime juice, chilies, and a pinch of salt. The cook can also add soy sauce for a hint of darker color and flavor.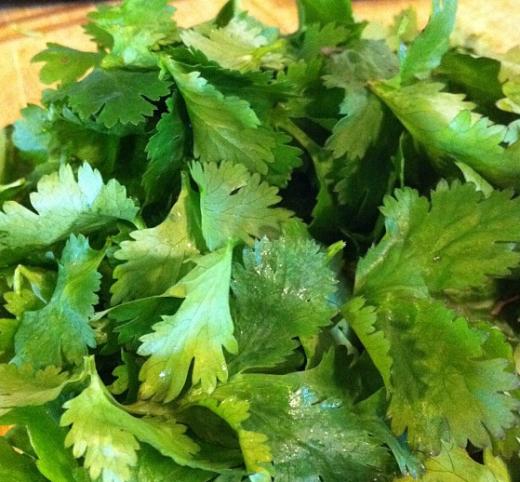 She should then dice cashews or peanuts and dry roast them in the wok to dress the dish with later. If the cook intends to use a meat, she should chop it into bite-sized pieces and fry it in a thin layer of oil in the wok, setting it aside to add at the end. Then, she can chop the vegetables and toppings, starting with tofu, shallots, and garlic. She should then chop green onions or chives into thin strips, along with fresh cilantro, and wash bean sprouts, setting them on a towel to dry.
Once the chef has prepared the sauce and vegetables, she can start cooking. She should put a thin layer of oil into the wok and put it on medium heat. Once the oil is hot, she can add the tofu, garlic, and shallots. As they start to caramelize, she can add the noodles, tossing the ingredients so that they are evenly mixed. When the noodles start to brown, they should be pushed to the sides of the wok and an egg cracked into the middle and allowed to cook briefly before all of the ingredients are mixed together. The cook can then add the sauce and follow with the meat. The noodles should be soft and brown at this point, and the whole mixture will be warm and covered in the sauce. The chef can then add approximately 1/3 of the chives, cilantro, and bean sprouts, stirring the mixture briefly before taking it off the heat and serving it immediately.
The pad thai should be garnished with the rest of the chives, cilantro, and sprouts, and sprinkled with the roasted nuts. Wedges of lime can be served with the noodle dish so that diners can squeeze the fresh juice over the whole mixture, along with small dishes of fish sauce, vinegar, chilies, and sugar for guests to adjust the flavor to their needs. While making this dish at home can be a little bit complex, it is a fun and delicious dish to eat, and one which guests will likely remember.
AS FEATURED ON:
AS FEATURED ON:

By: Joshua Resnick

Chicken Pad Thai.

By: Amber DeGrace

Cilantro is often included in pad thai.

Pad thai is often made with shallots.

By: Schlierner

Pad thai often contains garlic.

By: Ildi

Pad thai is made with tofu.

By: Red Rice Media

Rice noodles are a main ingredient in pad thai.

By: WimL

With its high smoking point and mild taste, peanut oil is ideal for making pad thai.