What is Office Furniture?
The items that are used to provide functionality in an office are often divided into three categories: office furniture, technology, and office supplies. While office supplies are the smaller, often inexpensive, items that are used in, around, and on office furniture, the furniture itself are the major items that make up the furnishings of the office.
It goes without saying that offices vary in their needs. Nevertheless, there are some common pieces of office furniture that it are customarily found. One is the office desk. For many people, their desk provides their main workspace, a place where they write, type, compute, read, answer the phone, and across which they may conduct interviews and hold meetings.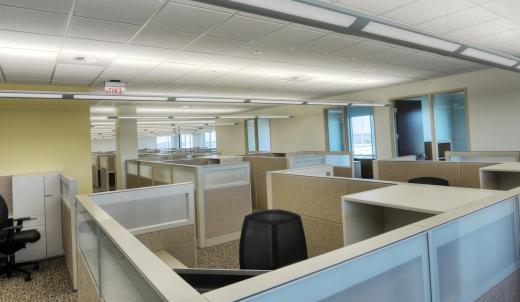 Desks may be made of wood, metal, plastic, or glass, but in most cases, unless they are specifically called "computer desks," they include a flat work surface — which may also hold a computer and/or monitor — and storage. The desks made specifically for computers may not offer storage. On desks that do have storage, there may be a drawer that has built in compartments, made for holding office supplies, while other drawers may have room for stationery and files.
A hutch may be available with a desk. Hutches also provide storage, but they are likely to have space for books and CDs, with perhaps some letter size shelves on which projects can be stored. Some have a cabinet, as well. Desks have a few characteristic shapes. They are often rectangular, but may also be L-shaped, or U-shaped.
Four alternatives to the desk are now common. Computer carts and computer stands — compact pieces of furniture that hold a computer and monitor — can serve in place of a desk when room is at a premium. These pieces of office furniture are designed for efficient use of space and are often on wheels so they can be relocated, if necessary. While the cabinets often include at least a bit of extra storage space, the stands often do not.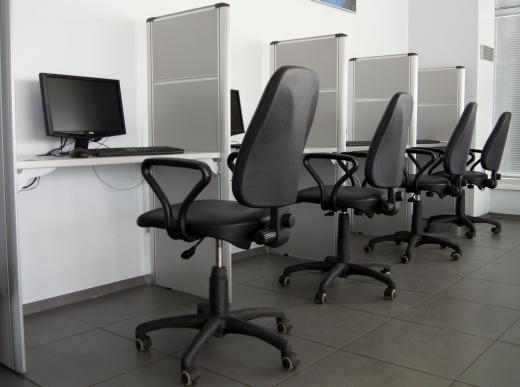 The armoire has also been adapted from its use as a storage cabinet or pantry into a computer center. It combines the benefits of the computer cabinet with more space, and many armoires have the ability to hide all they hold behind their doors. This can be a boon for an office in the home. Lastly, some people find that a table works for them as a desk, as well as a meeting and staging area. This can also be an attractive choice for a home office, because the table may be able to be used for other purposes.
A natural piece of office furniture to go with the desk is a chair. There are several different kinds of chairs that may be found in an office. Executive chairs are expensive desk chairs, often featuring leather upholstery, and generally having higher backs and more adjustments than other chairs. Managerial chairs are a step down from the executive chair, and here the focus is on ergonomic features. Specialized chairs with extra height to fit a drafting table are available for drafting, with or without arms, but with a foot rest.
Office furniture for storage can take the shape of bookcases, cabinets including filing cabinets, and shelving. These are available in a variety of materials, including wood, resin, laminate, and metal, and in many sizes and styles. Meeting tables and coat racks are two other items of office furniture that can help complete the furnishing of an office. Guest chairs — comfortable armchairs without wheels for visitors from outside the office or for colleagues who have come in for a meeting are another frequently found item.
AS FEATURED ON:
AS FEATURED ON:

By: Jesse Kunerth

Office cubicles.

By: Sashkin

Filing cabinets are essential pieces of furniture in any office environment.

By: naftizin

Computer chairs, desks and cubicles are among common components of office furniture.

By: RGtimeline

A drafting table is a type of office furniture that's often used by architects, engineers, or artists.

By: amphotolt

Desk lamps are a common piece of office furniture.