What is Negligent Hiring?
Negligent hiring is an example of employer negligence where an employer fails to exercise due diligence when making hiring decisions. Failure to investigate the background of an employee can expose an employer to liability if the employee injures someone, under the argument that employers have a duty of care when it comes to selecting new employees. People harmed by the employee may be able to file suit for damages. Employers should familiarize themselves with employment law and liability in their region to avoid potentially costly mistakes.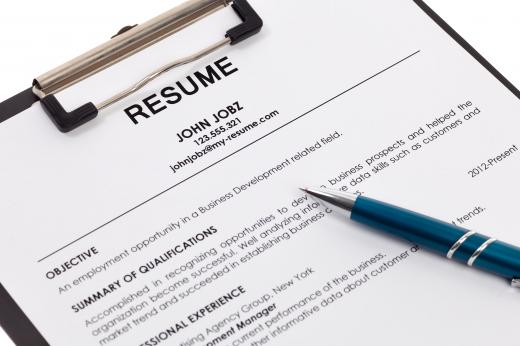 If a new hire could potentially put clients or employees at risk and a background check would uncover this fact, an employer may be found guilty of negligent hiring. For example, if a delivery company hires a sex offender and the employee sexually assaults a customer, the customer may have grounds for a suit. Likewise, if a company hires someone without proper certifications and that person endangers customers or coworkers on the job, this is also negligent hiring.
In the process of reviewing prospective employees, an employer should perform interviews and reference checks. A simple step like confirming that a doctor has a medical license in good standing can be enough to protect an employer from a negligent hiring suit. Employers can also request background checks to get information about criminal records, allowing them to avoid potentially dangerous hires. Companies of all sizes are expected to exercise due care in reviewing potential employees to see if they are fit for employment.
Employers who fail to take basic steps to make sure employees are suitable are acting negligently. If a routine measure would prevent a dangerous or unqualified hiring decision, it should be taken. Human resources personnel carefully document the process of screening, interviewing, and checking on applicants. In a dispute, the company can use the documentation to show it acted appropriately, exercising due caution and complying with the industry standard in terms of screening new hires. In a negligence suit, failure to produce exonerating information can compromise a defendant's case.
In certain industries, the standards for negligent hiring may be higher. When it comes to hiring people with professional certifications like lawyers, doctors, and commercial pilots, employers are expected to verify these qualifications. Certifying organizations maintain listings of members in good standing, along with reports on complaints. Employers can usually access an Internet database of members or make a phone call to get information about a prospective employee.


By: Dmitry Vereshchagin

Interviews and reference checks are important parts of the process of reviewing prospective employees.

By: phasinphoto

Failure to investigate the background of a new employee can leave the employer susceptible to legal action alleging negligent hiring if someone is harmed.

By: ruigsantos

Negligent hiring can occur when a person convicted of a serious crime is hired.