Mont di is a Burmese dish made from a type of thin rice noodle. The noodles are mixed with a variety of ingredients and sauces to create a dish which is a distinctive and well-known part of the cuisine of Myanmar. There are a number of different varieties of the mont di dish, many of which are associated with different Burmese regions or ethnic groups.
The term "mont di" refers specifically to the noodles in the dish, although the dish as a whole takes its name from this ingredient. These are usually prepared shortly before the dish itself, since they do not keep well in hot climates. Different ingredients are then added to the noodles to add flavor.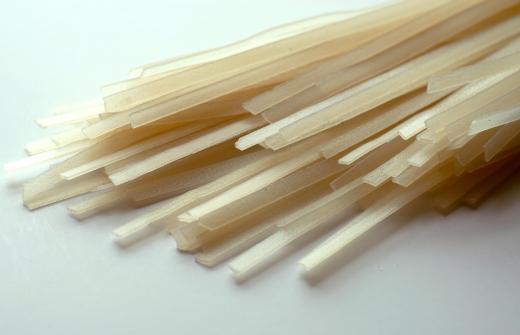 Rakhine mont di is a traditional dish served in the coastal region of Rakhine State in western Myanmar. This dish is traditionally associated with the Rakhine or Arakanese ethnic group, and can be served in two different ways, either as a soup or as a noodle salad. In either case, the ingredients include onion, garlic, and red and green chili paste as well as ngapi or fish paste.
In order to serve this dish as a soup, the cook mixes the noodles and other ingredients with a soup made from the daggertooth pike conger, a species of eel. It can also be served as a salad. In this case, the eel broth is served separately and the other ingredients are mixed directly into the rice.
Another related dish is Mandalay mont di, served in the eastern region of Myanmar. While the Rakhine dish uses seafood, the Mandalay version contains meat, reflecting the difference between the two regions. Versions of this dish from Mandalay can contain a variety of meats, but chicken is common. The meat is cooked separately in a curry-like sauce, then poured over the noodles. The rice noodles in Myanmar mont di are also different from the noodles in the Rakhine version.
The thicker noodles in the Mandalay dish resemble nan gyi thoke, also called nan gyi thohk or nanjee thohk, another typical Burmese rice noodle dish. The terms are sometimes used interchangeably or unclearly. Both of these types of noodle can be served in a number of different ways. Rakhine and Mandalay mont di are only two well-known variants among a wide range of different Burmese rice noodle dishes. Other ingredients found in mont di can include chickpea flour, coriander or lime.
AS FEATURED ON:
AS FEATURED ON:

By: Red Rice Media

Rice noodles are the main ingredient in the Burmese dish, mont di.

By: Rafael Ben-Ari

Mont di is served with eel broth.