What is Modular Office Furniture?
Modular office furniture is furniture made for the workplace or home office environment that can be customized and put together in various layouts. In general, it is fairly easy to assemble and move, which often appeals to organizations that have workstations that may need to grow or change over time. There are many different companies that provide modular office furniture collections, and while most typically include similar basic components, they can vary widely in their offerings of materials and finishes.
Many people are familiar with one of the most basic forms of modular office furniture: the cubicle. Most cubicles are made from component panels that can be attached to one another to create various length walls. These walls can generally be reconfigured as needed to make larger and smaller cubicles in a variety of shapes. Depending on the specifications of the particular panels one is working with, cubicles may often be configured in rectangular, square or even circular configurations.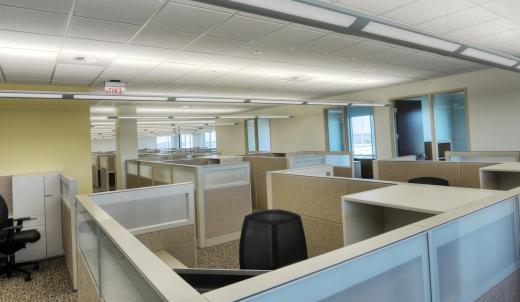 In addition to many cubicle walls being modular, the fixtures inside most cubicles are also pieces of modular office furniture. For example, the desks found inside are often made of planks, which can be linked together to make longer desks, or juxtaposed side-by-side to make desks with two or more discreet surfaces. These desk planks generally attach to the cubicle wall panels themselves and may be adjusted in height as needed. Shelves, filing cabinets, desk drawers and keyboard trays are a few of the more common component pieces that are often added to the modular office design.
While some of the more familiar modular office furniture is found in the workplace, home office furniture may also be modular. In this case, however, cubicle walls are rarely employed. Instead, a free-standing desk typically serves as the base component of the modular suite. The final size of the desk is typically determined by how many modular pieces are added on to the base version. For example, the base desk may be a simple rectangle, but arch-shaped side pieces may be added on to each side to form a semi-circle desk. In addition, drawers, shelves, bookcases and other components are often available to add on.
Numerous companies sell modular office furniture in a variety of configurations and styles. Options may range from cloth-covered cubicle walls, painted wood-composite desks and metal shelves to full, solid hardwood desks, shelves and cabinets. Likewise, colors may range from muted grays and blues, often seen in the workplace, to rich, red mahogany wood, often found in executive and home offices.
AS FEATURED ON:
AS FEATURED ON:

By: Jesse Kunerth

Cubicles can be easily broken down and reconfigured.

By: Goran Bogicevic

Modular office furniture is designed so that it can be arranged in different configurations, as with cubicles.

By: Monkey Business

Some contemporary modular cubicles are built using opaque glass and wood.

By: Stacy Barnett

Some modular office furniture is ergonomically designed.