Mineral makeup refers to a variety of products, most often sold in powdered form, that are used as foundations, blushes, eye makeup, and the like. There are a few companies that are no doubt recognized, like Bare Minerals® and Bare Escentuals® (both the same company) which occupy prominent infomercial time on many televisions and on home shopping channels. These products are also available at large makeup retailers like Sephora, and other more commercial brands like Loreal® have recently jumped on the mineral makeup bandwagon, because of the success of these products.
There are a number of claims about mineral makeup, and like the claims of many other types of beauty products, these must be taken with a grain of salt. First, not all mineral makeups are equivalent, and some may use minerals that are chemically produced rather than present in the earth. Moreover the minerals in the makeup are usually composed of very tiny powder fine flakes of minerals, and in this form, it's not scientifically proven that they're any safer to use than liquid forms of makeup. In fact, it's difficult to know, given the fact that these particles can easily be inhaled, whether some minerals contained in these products are harmful or beneficial, especially with some of the more "cruelty free" or organic brands that routinely don't test their products on animals.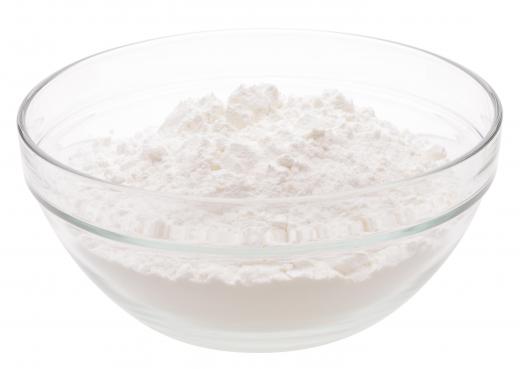 Nevertheless, there is abundant evidence that some of the less chemically produced forms of this type of makeup do have many fans, and among these fans are a number of dermatologists. Powdered makeup that contains zinc oxide can be very beneficial to the skin because it can calm irritations, and it may help with conditions like rosacea. Some people complain that even with extra coverage benefits for blemishes on the skin, mineral makeup still doesn't work as well as liquid foundations when trying to achieve an even skin tone. Others love it, and most like the fact that wearing most forms of powdered foundation feels much lighter on the skin.
You do have to watch for some problems with the way some companies market their mineral makeup. You should also pay attention to its ingredients — the more "pure" forms are likely to contain cornstarch, but other products may contain talc, which is considered unhealthy to inhale.
One brand sold only on television, and not available in retail stores has been notorious for extremely sketchy practices. Offering a much lower "introductory offer," sometimes as low as $9.95 US Dollars (USD), the company actually bills customers every 60 days at a rate of about $70 USD. There are a huge number of complaints regarding this company, especially regarding trying to cancel this billing. Unfortunately the infomercial that advertises this makeup features several prominent television stars and a few of the winning models from America's Top Model.
To avoid getting into a contract of this type, which you may have a hard time canceling or being reimbursed for, you should look to the companies that offer mineral makeup in a more standard business way. Products bought on the Home Shopping Network or other shopping channels are usually generous about returns, and numerous retail stores carry tons of varieties. Beware the companies that lock you into a contract where you'll be committed to purchasing the makeup every two months, unless you're sure you like it and will need it.
One tip for anyone who wishes to buy mineral makeup is to be aware that most of these foundations offer limited sun protection. Dermatologists are unsure whether such protection is enough. They suggest using a sunscreen higher than the SPF 15 offered by most mineral makeups. It can be placed underneath powder foundation and protect you better from harmful sun exposure.
AS FEATURED ON:
AS FEATURED ON:

By: Yuriy Afonkin

Cornstarch is a common ingredient in mineral makeup.

By: Viktor Pravdica

A woman has mineral makeup applied to her face.

By: studiovespa

Mineral eyeshadow is a popular choice for people who want more natural makeup.