Lip butters are lip treatments that typically contain high percentages of vegetable butters and naturally-derived oils. Commercial lip butter may contain artificial flavors and colors, allowing manufacturers to create flavors like pomegranate-orange, honey-lemon and strawberry-banana. Homemade lip butter generally only contains vegetable butter, oil, and wax. Essential oils and the natural colors of the wax give homemade lip butters their colors, scents, and flavors.
Those with very dry lips may prefer lip butter over traditional medicated lip balms. Balms usually contain wax and fatty alcohols as moisturizing agents, which may not be enough for extremely dry or very sensitive lips. Shea butter, as well as vegetable, cocoa, and fruit butters — like that made from mangoes — are usually the main ingredients in a lip butter. These soft, smooth ingredients often quickly saturate and heal dry skin. Essential oils, like rose and lavender, then help lock in the moisture.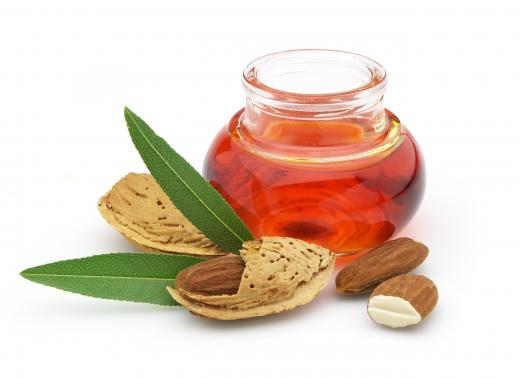 Unlike traditional lip balms, lip butters don't usually come in long tubes. Instead, they're packaged in metal tins or small plastic pots with snap or screw-on lids. Most lip butters must be applied with the finger which, while sometimes messy, often helps the butter soak into the skin. The warmth from the applicant's fingers melts the butter slightly as it is applied, helping it distribute and fully coat the affected area. Finger application may also help people control where the butter goes and how much they apply because they can feel which areas of the lip need the most moisture.
The general recipe for making lip butter at home includes 2 parts each of vegetable butter and oil, 1 part soft wax, and several drops each of desired flavoring extracts and food coloring. The maker may combine different kinds of butters and oils to produce a relatively complex lip butter. For instance, one recipe may include 1 part each of mango butter and cocoa butter, along with a 1/2 part each of olive, grapeseed, rosehip, and sweet almond oils. A few drops of mango, rose, and almond essential oils — along with 20 or so drops of orange food coloring — should result in a fruity, floral, peach-colored lip butter.
Once the maker has chosen all of his or her ingredients, he or she must simply melt them together in double-boiler or in a microwave. The liquid ingredients then get poured into small tins or pots and should be allowed to cure, usually overnight. Those with an especially artistic bent may pour some of the butter into candy molds and then, when dry, place the molded pieces on top of the lip butter in the containers to add a bit of decoration.
AS FEATURED ON:
AS FEATURED ON:

By: Dionisvera

Almond oil is a popular ingredient in lip butter.

By: svl861

Cocoa butter is often a main ingredient in lip butter.

By: Studio Porto Sabbia

Rose oil is an ingredient in some lip butters.

By: Artem Furman

Some people use lip treatments that contain high amounts of vegetable butter.