What Is Lavender Shampoo?
Lavender shampoo is a shampoo that may contain natural extracts of the lavender plant, both leaf and flower, and/or natural and artificial essential and aromatic oils for a floral scent. Commercial lavender shampoo often contains synthetic lavender fragrance, with added vitamins like vitamin E and C for healthy hair growth and renewal. Natural shampoos that contain lavender contain only natural derivatives of the lavender plant, which is said to boost relaxation and promote healthier, shinier hair. More often than not, a lavender shampoo contains lavender essential oil and other natural oils to boost aroma and promote healthy-looking hair.
The majority of commercial shampoos contain synthetic and artificial additives, such as aroma enhancers and vitamins, as well as preservatives and stabilizers. In commercial lavender shampoo, these ingredients may also be present, with synthetic lavender present in large amounts to give the product a pleasing and attractive scent. Aromatic lavender oil is often the main ingredient that gives the shampoo a lavender aroma. Shampoos may also include other comparable aromas like rose and rosemary to add complexity to the overall scent. Vitamins are also added to a synthetic, commercial lavender shampoo to increase its nutrients.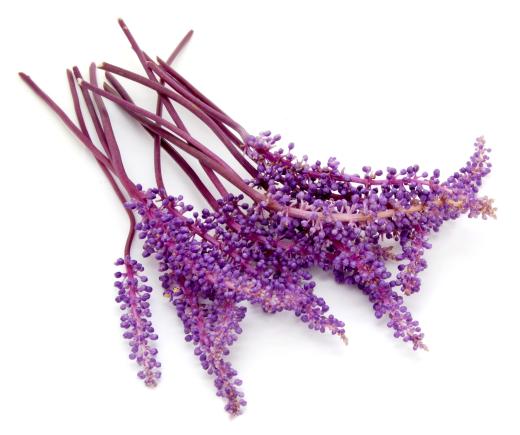 In natural lavender shampoo, only natural ingredients like essential oils, antioxidants and vegetable-derived nutrients are added. Natural shampoos that contain lavender will often contain extracts of the whole plant, as well as lavender essential oil, both of which bring a lavender aroma to the product. Since lavender is promoted as a relaxation plant, many shampoo manufacturers advertise this as a potential health benefit on their labels. Lavender also contains antioxidants, another point used by marketers to promote a plant-based shampoo, as antioxidants do play a role in hair health.
Oils such as jojoba oil or coconut oil may be added to a natural lavender shampoo to help add shine to hair, as well as add moisture and antioxidants. Commercial, synthetic lavender shampoos may also contain added oils, as well as synthetic vitamins like vitamin E and C, important for hair health. Homemade shampoos can also be made with lavender by infusing lavender flowers in water, making a strong lavender tea that is then used as a hair wash or hair rinse. Adding lavender essential oil to this hair wash, as well unscented shampoo, makes a simple and natural homemade lavender shampoo.
AS FEATURED ON:
AS FEATURED ON:

By: Kimberly Reinick

Lavender flowers.

By: Daniel Hughes

Lavender shampoo may contain essential oils to boost relaxation.

By: Valua Vitaly

Lavender extracts are said to promote healthier, shinier hair.