What Is Lavender Fragrance?
Lavender fragrance comes from the oils of lavender blossoms or buds. It usually smells light, sweet, and a little musky. People have long used lavender to keep stored linens and clothing smelling fresh, and lavender flowers and scents have also been known to ward off mold and insects. Many people spray their beds with lavender scent, especially after an illness. The fragrance can help people stay alert, smooth and hydrate the hair, and help neutralize body odors. Many boutiques sell lavender fragrances, but these things can also be made at home with just a few supplies.
The lavender plant is a tall, weedy plant featuring small, dusky purple flowers. The flowers cluster around the tips of the plant's stems, making each stalk look a bit like a paintbrush. When crushed, the flowers release lavender fragrance, a scent that many people find pleasing. Lavender often grows wild in many parts of North America and Europe. It has long been used in teas, skin washes, and in many different kinds of French cuisine. In aromatherapy, lavender is supposed to engender concentration and calm.
There are many ways to obtain lavender fragrance. The simplest involves simply purchasing a bottle of lavender essential oil. These oils are usually rather expensive, but a few drops of lavender in an oil diffuser usually provide fragrance for several days at a time. Additionally, a little essential oil may be added to a batch of laundry or a bottle of unscented shampoo. Not only does this essential oil help kill germs, it can also soothe and inflamed scalp and smooth hair shafts.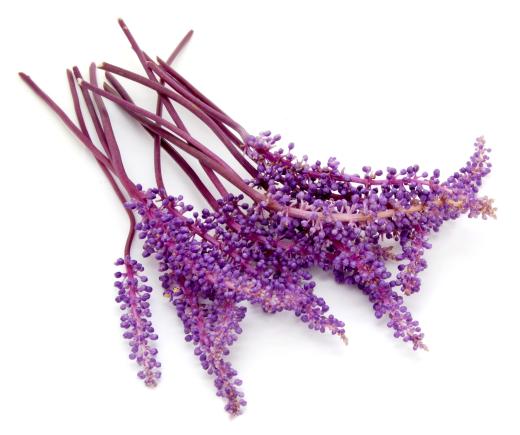 Those who want to reap the benefits of lavender fragrance without the expense have several options. To keep clothing smelling fresh, people may pick and dry lavender flowers, then bundle them up in little lace sachets or cheesecloth and slip them into dresser drawers. Dried flowers may also be hung on the walls in kitchens and family rooms to freshen the air during the winter, or after spring cleaning.
To make homemade lavender spray, or lavender fragrance water, people need only steep a few spoonfuls of dried lavender buds in hot tea for a few minutes. This strong tea may then be mixed with a little unflavored vodka to keep it fresh. The resulting spray may be used on everything from bed linens to skin. Though the vodka should prevent the water from spoiling, users should still store lavender water in the refrigerator and make fresh batches every month or so.
AS FEATURED ON:
AS FEATURED ON:

By: karam miri

A lavender deodorant.

By: Kimberly Reinick

Lavender flowers.

By: Daniel Hughes

Lavender oil's fragrance is often used to promote calm feelings.