What Is Laughter Therapy?
Laughter therapy is the practice of deliberately releasing laughter to improve one's physical and emotional well-being. It is believed that laughing can produce a number of physical and psychological benefits, and advocates of laughter therapy hold that it is useful both for those in the midst of a serious crisis and those facing everyday stresses. This type of therapy may involve both genuine and artificial laughter, and may be practiced in groups or alone. Those conducting laughter therapy sessions may face the challenges of finding exercises that all participants find humorous and getting timid individuals to participate.
Research suggests that laughter can produce a number of benefits for both the mind and the body. For instance, it can relieve stress, sadness, and fear, and can improve one's attitude toward issues like unemployment or illness. Laughter may also provide a range of physical benefits in some individuals, such as improved blood pressure and digestion and diminished pain. Taking note of such potential health benefits, certain doctors and researchers began to develop the concept of laughter therapy in the late 20th century. This type of therapy can be used for those facing significant challenges, such as terminal illnesses, as well as those who simply want to improve their response to the stresses of everyday life.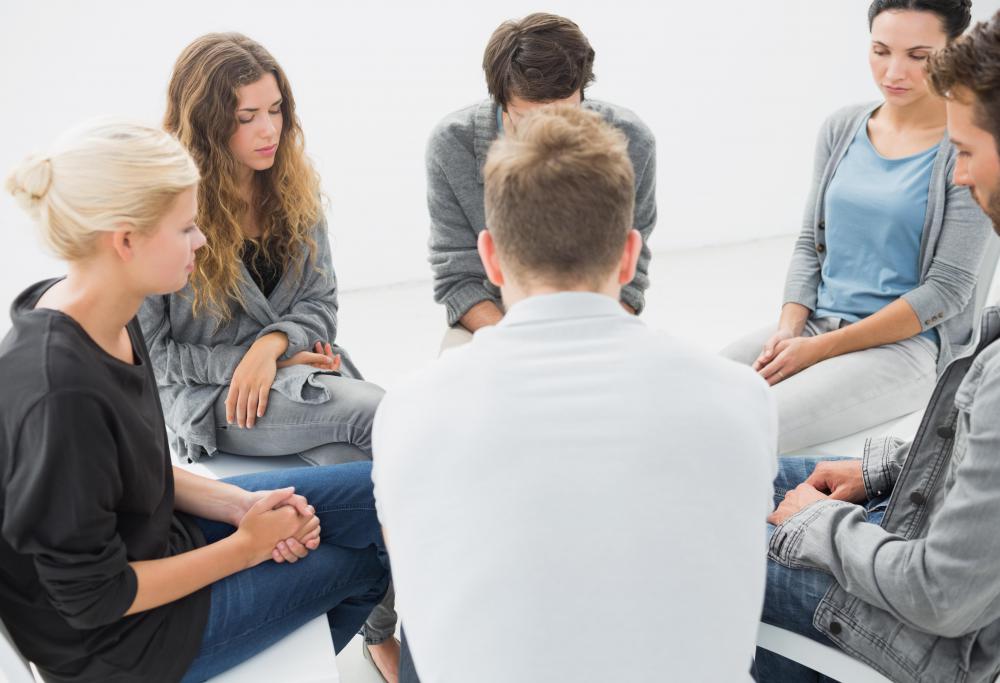 The exact format of laughter therapy sessions can vary widely. They can consist of informal activities, such as watching a humorous movie or reading a silly book, or may take the shape of structured sessions in which participants perform a series of laughing exercises. A therapy session can involve just one participant or many.
Many researchers believe that artificial laughter can "trick" the brain into producing the same health benefits as genuine laughter. Consequently, during structured laughter therapy sessions, therapy leaders often ask participants to produce exaggerated laughing sounds. Although this artificial laughter may be beneficial on its own, many therapy leaders claim that the silliness of fake laughter exercises often leads to genuine laughter among participants.
Leaders of laughter therapy sessions may face a couple of obstacles as they attempt to engage therapy participants. First of all, from time to time they will likely find that an exercise that seems humorous to one participant is not funny to another one. Further, they may find it difficult to encourage timid therapy participants to let go of their inhibitions and join in exercises that might make them look silly.
Laughter has been shown to have mental and physical benefits.

Laughter therapy can be used to lift the spirits of patients suffering from terminal illnesses.

Laughter therapy may be practiced in a group setting.

It may be difficult for timid patients to join in laughter therapy exercises.

Laughter may help to relieve a person's sadness or fear.

Laughter therapy may help reduce stress or fear.