Hand luggage is any type of small luggage that can be carried by hand. These units are fairly small and lightweight, and they are typically designed for carrying fewer objects than larger pieces of luggage. Hand luggage is usually even smaller than carry-on luggage that fits in overhead bins on airplanes, though some pieces of hand luggage can be somewhat larger. In most cases, these pieces of luggage only feature a handle or shoulder strap, though some may feature telescoping handles and wheels for rolling the unit across airports, train stations, hotel lobbies, and so on.
Very often the terms "hand luggage" and "carry-on luggage" are interchangeable. When this definition is used, hand luggage can be fairly large, as long as it is not so large as to be unable to fit in an overhead compartment. Carry-on luggage very often features a telescoping handle for easy pulling across airports, and wheels to help the luggage glide smoothly. Sometimes the luggage is stackable; one piece is fairly small and features wheels and the telescoping handle, and another piece can stack on top of the rolling piece and secure to the telescoping handle, thereby making one unit for transport.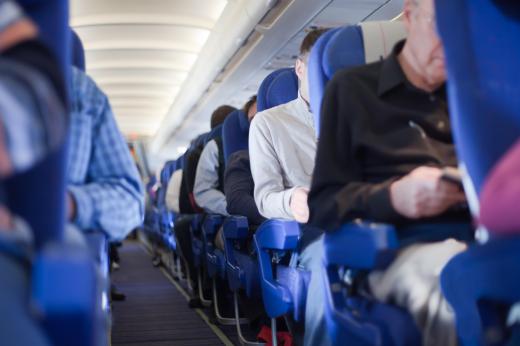 The materials used to make hand luggage can vary. The materials are usually fairly durable to withstand the rigors of traveling, and they may range from natural materials such as cotton or canvas to synthetic materials such as nylon, polyester, or even plastic. Some carry-on luggage features a hard shell to protect fragile items, especially electronics. Hard shell hand luggage is not as easily stored, however, since the hard shell will prevent any compacting. Soft shell luggage can often be compacted slightly to fit more easily in overhead bins or even in trunks of cars.
A broader definition of the term hand luggage may include any small piece of luggage, regardless of design, that can be carried by hand and stored fairly easily in overhead bins. This means certain duffel bags and purses may fit the definition as well. Hard shell cases can also fit the definition, regardless of whether those cases are intended for use as luggage. Other carry-on items, such as musical instruments, may be considered carry-on luggage, depending on the context, and in many cases, airlines will not charge for storage of such items as long as they fit the size restrictions outlined by the airlines before boarding a plane.
AS FEATURED ON:
AS FEATURED ON:

By: Pavel Losevsky

The terms "hand luggage" and "carry-on luggage" are often used interchangeably.

Hand luggage may refer to small pieces of luggage that can be carried by hand or stored easily in overhead airplane bins.