Generic Xanax® is a pharmacological equivalent of the brand-name drug Xanax® which is available at a lesser cost. Doctors may recommend generic Xanax® for patients who cannot afford Xanax®, or who have insurance policies which will only pay for brand name drugs if the generics are proved ineffective.
The generic name for Xanax® is alprazolam. This drug was developed in the 1960s by the company now known as Pfizer Pharmaceuticals, and it was approved in 1976 for use in the treatment of panic disorders and branded as Xanax®. The drug is used today to treat a wide variety of anxiety and panic disorders, and in addition to being available in short acting dosages, it is also available in an extended release version. Generic Xanax® is available in a number of dosages, in both regular and extended release versions.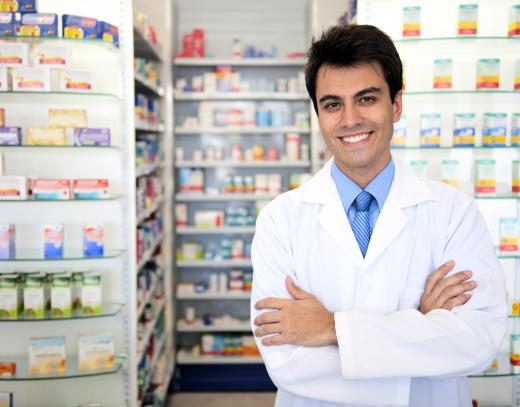 As with other generic drugs, generic Xanax® must be pharmacologically equivalent to the brand name drug, containing the same active ingredients and acting in the same way on the body. It is also held to the same quality standards as the brand name drug, and is available by prescription only. As a general rule, when a doctor writes a prescription for alprazolam, the pharmacist will fill it with the generic version of the drug, unless the prescription specifies that Xanax® or another brand name version of the drug should be used.
For patients who need anti-anxiety drugs in the long term, using generics can save a substantial amount of money if they are paying out of pocket for prescriptions. Insurance companies may also insist on the use of generics to save costs. If alprazolam is not effective for a patient, a doctor may recommend that the patient try Xanax®, usually after adjusting the dosage and controlling for other factors which could be interfering with the effectiveness of a drug.
This benzodiazepine is prone to abuse, which is a concern for the medical community in many regions of the world. Whether generic or branded, the drug can be addictive, and some people use it recreationally. For this reason, access to the drug is tightly controlled, and patients are usually informed that they should not share their prescriptions with others. Some doctors have also raised concerns about counterfeit versions of generic Xanax® which may be sold to people who want the drug for recreational use or to patients who are trying to find low cost prescriptions. Patients can avoid counterfeit drugs by using the services of a reputable pharmacy to fill prescriptions.
AS FEATURED ON:
AS FEATURED ON:

By: mangostock

A pharmacist will usually provide generic drugs unless the brand name is specified on the prescription.

By: sebra

Recurring nightmares are a symptom of Xanax withdrawal.

By: Tyler Olson

Generic medications can be purchased at a reduced cost.

By: LoloStock

Xanax® is also marketed and sold under the generic name alprazolam.

By: nyul

Xanax is commonly prescribed to treat anxiety.

By: JJAVA

Generic Xanax is a highly-addictive drug.

By: JackF

Some prescription drug plans may cover the cost of the generic, alprazolam, but not the name brand drug.