Flower pressing is a way of preserving dried flowers for various craft projects. The pressing process can usually be done by any age group, provided children have adult supervision. Aside from the flowers, all that's typically required to press flowers is pressure, warmth, and absorbent paper.
There are many different items a person could use to obtain the necessary pressure for flower pressing. Generally, any flat heavy item can work. Commonly used objects include heavy books, such as dictionaries or encyclopedias. Pressed flowers can be used in many projects, including gift card design, scrapbooking, and stationery design.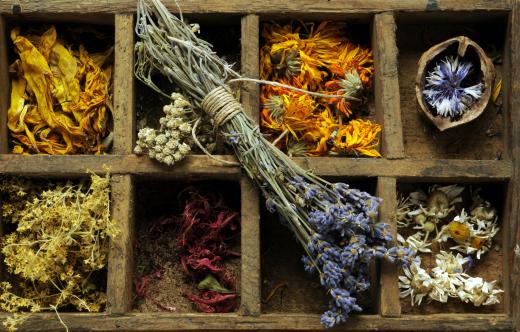 Generally flowers in full-bloom work best. If you're picking flowers outdoors, the late afternoon is usually when flowers are at their lowest moisture point, which typically allows for easier flower pressing. Flowers that have naturally flat petals, such as violets, pansies, or buttercups, make good flower pressing subjects.
Gardening scissors can be used to harvest the flowers. Some of the stem is usually left attached in order to prevent the flowers from falling apart. As the flowers are picked, they are typically spread out in a basket, with each being separate to avoid tangling. The flowers are normally pressed the same day they are harvested.
Flowers can stain paper, so they should generally not be placed between book pages. Instead, flowers are typically placed between sheets of absorbent paper, with a book placed on top to press the flowers. Different varieties of flowers are usually pressed between separate sets of paper because of the varying moisture content. Sets generally consist of no more than three layers of flowers.
Without heat, a person cannot usually press flowers with good forms and consistent colors. Flower pressing can be done in any dry area that has warmth, usually in the form of natural sunlight. An alternative to this would be to place the flower press on a warm closet shelf with the door closed. Some people prefer to place the flower press in a microwave on the lowest setting for almost immediate results.
There are many factors that can affect the amount of time needed for flower pressing, such as humidity, temperature, and flower size. It might take four days to naturally press small flowers, but it could take as many as eight days to successfully press larger ones. When the flowers have become completely stiff, with a paper-like consistency, the flower pressing process is complete.
AS FEATURED ON:
AS FEATURED ON:

By: Comugnero Silvana

Some flowers are better suited to pressing than others.