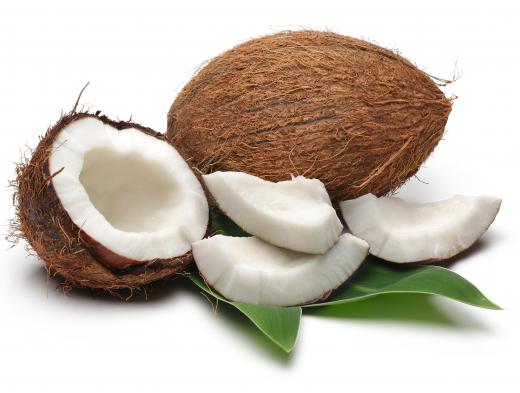 A sweet Filipino dessert, espasol is a type of tubular rice cake. Originating in the province of Laguna in the Philippines, espasol is usually made with two different types of flour and also has a strong coconut base. In addition to being a homemade treat, it is also popular vendor food in the Philippines.
Both sweet rice flour and glutinous rice flour are included in this dish. In addition to flour, coconut milk, sugar, and grated coconut are also included. Salt, anise seeds, or vanilla essence are sometimes added as well.
To prepare espasol, both the glutinous rice flour and the grated coconut are first toasted. The flour and the coconut are placed in separate pans and heated on a low flame. The cook stirs each ingredient until it turns a light brown. Sometimes the sweet rice flour will be toasted as well.
Once the toasted ingredients have been set aside, the coconut milk is boiled. Some versions will boil the sugar with the milk and some will wait to add the sugar until after the milk has boiled. Either way, the sugar will be dissolved and the mixture allowed to thicken before the next ingredients are included.
Afterward, the toasted grated coconut is added to the milk mixture. Once the coconut is combined, the vanilla, salt, or anise seeds and the toasted flour are stirred into the mixture. The espasol may cook for up to an hour, until it thickens. The cook must continue to stir the mixture frequently during the cooking process.
Occasionally, only sweet rice flour will be used. In this case, the flour is toasted and then divided for use as both the outer coating and the cooked ingredient. Otherwise, the cooking process remains the same. No matter the process, once the mixture has thickened sufficiency, the pan is removed from the heat and the espasol is allowed to cool. Meanwhile, a flat surface is dusted with the sweet flour.
When the mixture is cool, it is divided and the pieces are rolled into tubes on the floured surface. The mixture may be divided into several small pieces or it may just be split in two. If it is split, each longer tube will be cut into appropriately sized pieces after rolling. Usually, each espasol is about 0.5 inches (1.27 cm) thick. Although espasol may be served on a plate, it is often served wrapped in paper or banana leaves.


By: mates

Grated coconut can sometimes be added to the Filipino dessert espasol.