What is Energy Conservation Management?
Energy conservation management is the management of processes and policies designed to reduce energy usage. There are two main ways that are usually used to manage the conservation of energy. Firstly, consumption may be reduced such that fewer services and utilities that require energy are used. Secondly, energy efficiency may be increased so that the same services are delivered but with less usage of energy.
As growing populations and increasing per capita energy demand results in higher and higher energy use, energy conservation management provides an important way of keeping down the cost of energy. This process can help reduce the demand for building new power plants, reduce the cost of importing additional energy across borders, and facilitate the handling of acute energy shortages. Conserving energy is often seen as a more environmentally friendly way of dealing with some of these issues than simply increasing the output of energy from existing means of production.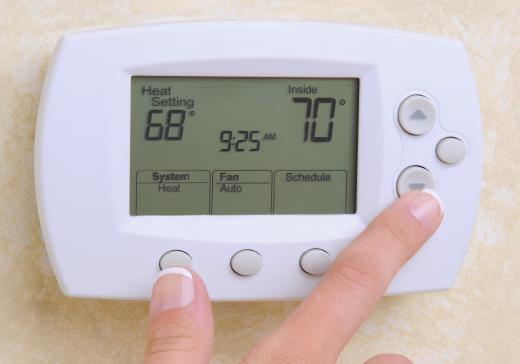 Some of the key areas in which energy conservation management is important include the transportation, industrial, and consumer or residential sectors. The transportation sector accounts for a high percentage of energy usage in Western countries. In this sector, managing energy conservation might include measures such as imposing higher taxes on vehicles that use large amounts of fuel per mile, investing in research to create engines with greater energy efficiency, or encouraging consumers to increase their consumption of local produce.
Measures that could be used in the industrial sector in order to encourage energy conservation may include energy efficient building design, the reduction in usage of air conditioning during the summer months by improved ventilation, or implementing movement sensitive lights. For the residential sector, energy conservation is often motivated by the reduction in the cost of energy bills for individual householders. Common approaches to reduce residential energy usage may include installing energy efficient electrical devices, improving loft insulation, or installing double glazed windows.
Environmental concerns, particularly regarding the burning of fossil fuels and the resulting air pollution, give impetus to energy conservation management. A holistic energy policy is likely to include conservation of energy as well as the important strategies of clean energy and renewable energy. As such, a sustainable energy policy may include reduction in energy usage as well as identifying alternative sources of energy. One major issue concerning energy conservation management relates to the theory that improvements that increase energy efficiency will tend to increase rather than reduce overall energy usage.
AS FEATURED ON:
AS FEATURED ON:

By: Steve Cukrov

A programmable thermostat may help reduce energy consumption.

By: Monkey Business

Turning off lights that are not in use is one way to conserve energy.

By: Matthew Jones

Lowering energy consumption is beneficial for the environment, in addition to lowering monthly bills.