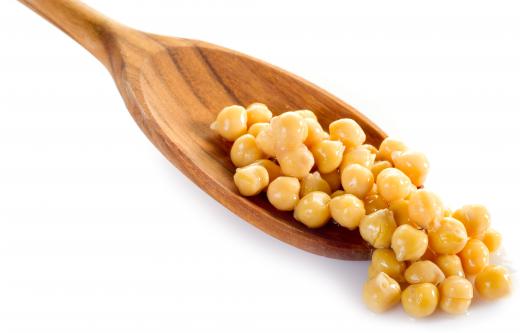 Hummus is a dish primarily featured in Middle Eastern cuisine that typically consists of chickpeas mashed together with garlic, olive oil, and lemon juice to form a thick and smooth dip or spread. Although chickpeas, also commonly referred to as garbanzo beans, tend to be the main ingredient, eggplant hummus is one variation of the standard hummus recipe and utilizes eggplant as the featured flavor. Eggplant, a relative to potatoes and tomatoes, is a savory fruit that is usually treated as a vegetable and has a creamy texture when peeled and cooked.
The exact ingredients used in eggplant hummus may vary depending on the specific recipe, but standard versions tend to have basic ingredients in common. In addition to eggplant as the main ingredient, recipes often still use traditional mashed chickpeas, but in smaller amounts. Finely chopped garlic and freshly squeezed lemon juice are also often added to the eggplant and chickpeas, while olive oil is used to impart a creamy texture. Tahini, a paste made from sesame seeds, may also be added to the dish for an even richer flavor and smoother texture.
Eggplant has a natural tendency to have a bitter taste that can overpower any other ingredients. It also has an absorbent texture, making it more likely to soak up the olive oil in the recipe and become unpleasantly greasy to many people. To mellow out its flavor and reduce its oil absorbency, it is generally recommended to thoroughly roast or grill the eggplant until it is completely cooked through prior to using it in an eggplant hummus recipe. Eggplant can be grilled or roasted whole or cut into chunks because the heat loosens the skin and makes it easy to remove, as well as softening the taste and texture of the flesh.
Before the cooked eggplant is used for hummus, it is often recommended to make sure that as many of the seeds are removed as possible. Eggplant seeds tend to be one of the main sources of the bitter taste that some people may find unpleasant or overwhelming. Preparing eggplant hummus is generally considered basic and doesn't require any additional cooking. The eggplant is pureed in a food processor along with canned or pre-cooked chickpeas, garlic, olive oil, lemon juice, and any other desired ingredients, until it forms a creamy texture. The hummus can be served right away or covered and chilled to allow the flavors time to meld together.
Eggplant hummus is often served cold or at room temperature. It may be eaten as a dip and paired with crudités, such as sliced cucumbers, bell peppers, or carrot sticks. The dish may also be used as a spread for crackers, pita bread, or a sandwich condiment.


Chickpeas, a main ingredient in eggplant hummus.

By: Giuseppe Porzani

Eggplant hummus is one variation of hummus.

By: margo555

Olive oil, when combined with chopped eggplant, garlic, and mashed chickpeas, makes for a tasty hummus.

By: valery121283

Eggplant hummus is a delicious dip to serve with bell peppers.