What is Digital Publishing?
Digital publishing refers to the process of creating documents, often combinations of text and images, in a digital format rather than a traditional, printed format. This type of publishing has been encouraged and supported by the development of the Internet and digital media, such as compact discs (CDs), and various types of digital media software. The increased popularity of various devices designed for viewing digital media, such as eBooks, has also influenced the development of such publishing. Digital publishing can also take advantage of the strengths of digital formats to allow the use of metadata, computerized navigation of published products, and similar features.
Sometimes also referred to as electronic publishing or ePublishing, digital publishing can utilize a number of formats and types of media. In general, however, it typically involves text and images made available through digital formats rather than through traditional printing on paper. These documents are often generated on computers through various software programs, such as word processing software, and then published or distributed through various digital formats. This can include digital publishing through distribution of materials over the Internet, as well as publishing and distributing materials on a hardware format, such as documents that are saved on CDs or distributed on flash memory sticks.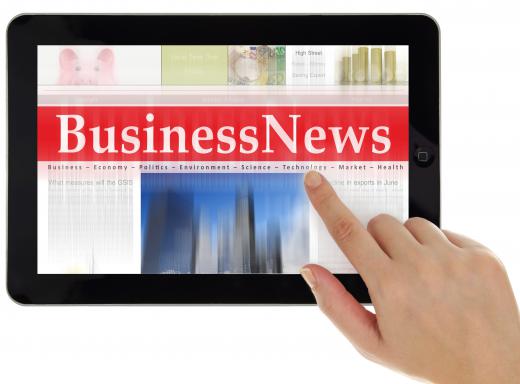 Much of the popularity and usefulness of digital publishing has been related to increased availability of different types of technology. As the Internet has spread to more nations, and to more areas of different countries, materials published online have become far more accessible. The file sizes involved with the digital publishing of many documents is also quite small, making files easy to transfer across the Internet, even to those who may not have a fast connection. As new technology has been developed and made commercially available, such as the proliferation of eBooks during the early 21st century, this type of publishing has become even more viable.
While the initial purpose of digital publishing has often been to emulate the format of books or magazines, there have also been strides to surpass such formats. Some eBooks, for example, include features that allow a computerized voice to speak the words on a page, which can be helpful for those who may have difficulty reading. Digital publishing can also utilize certain aspects of the digital format to change the experience of reading. The user of an eBook, for example, can immediately look up words he or she may not know on the same device, share passages from the book with friends through social networking sites, make notes to himself or herself on the device, and even play music through the device while reading.
AS FEATURED ON:
AS FEATURED ON:

By: viperagp

Materials published online are now far more accessible.

By: Elenathewise

The first digital publishing efforts sought to emulate the format of print products including magazines.

By: tomer turjeman

Digital publishing can also take advantage of the strengths of digital formats to allow the use of metadata.

By: Markus Bormann

Ebooks are a form of digital publishing.