What Is Colloidal Sulfur?
Colloidal sulfur is a finely divided form of sulfur. It is used to treat a wide array of skin conditions, including acne, rashes, and rosacea. Skin products with colloidal sulfur typically come in creams, ointments, face masks, and soaps.
The use of of this substance to treat skin problems predates the development of dermatology practice. It first came into use in the late 1800s. Many modern preparations with the element are available over-the counter.
Colloidal sulfur helps to clear the skin by preventing bacteria from growing. This can help to unclog pores, thus allowing impurities to exit the body. Some products containing the element can also help to slough off dead skin.
In order to reduce the risk of side effects, it is often advisable to use products containing this substance on small patches of skin, as the more skin it covers, the more sulfur the body absorbs. Though it can be an effective skin treatment, the element can also be an unpleasant substance to use. Due to its fine texture, it tends to have the least intense smell of most topical sulfur products, but it can still be strong enough to cause some individuals to discontinue its use. Products with the element also often dry the skin, which can cause other problems.
Common side effects include itching, burning, and irritation. Some individuals may also notice uncharacteristic warmth, swelling, and redness. These symptoms should go away if use of the product is discontinued.
Severe side effects from taking colloidal sulfur are rare and should receive immediate medical attention. They can include mouth sores, fever, joint pain, and a worsening of the skin condition being treated. Products with this ingredient should not be used by people with sulfa allergy or intolerance. Common symptoms of an allergic reaction include hives; breathing difficulties; and swelling of the throat, face, and tongue.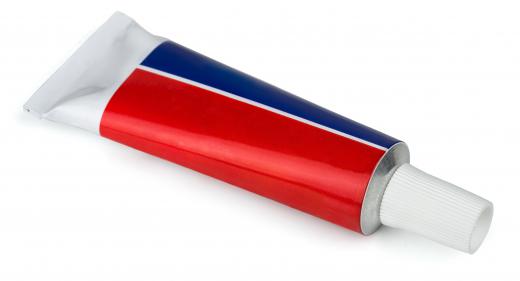 There are also precipitated sulfur products available for skin care. This type of sulfur has a larger molecular structure than colloidal structure. It is less expensive, but it also has a much stronger odor. Though perfumes can be used to counteract some of the smell, it is sometimes still too unpleasant for many consumers.
Colloidal sulfur is also sold in powder form for a variety of manufacturing purposes. It is primarily used to make rubber-like products that must have a small molecular structure. Some common products include condoms and surgical gloves.


By: ampyang

Colloidal sulfur can help heal skin rashes.

By: soupstock

Colloidal sulfur may be used to treat acne.

By: Coprid

Colloidal sulfur comes in several forms, including ointments, and its use dates back to the 1800s.

By: robert mobley

Colloidal sulfur can be used in creams or face masks to treat rosacea.