What Is Clinical Optometry?
Clinical optometry defines the practice of diagnosing and treating disorders of the eye to improve vision in a clinic or similar setting. Doctors of optometry use special instruments to measure defects in vision and prescribe contact lenses or eyeglasses to correct deficiencies. They may also perform minor surgeries to remove foreign bodies from an eye and suggest exercises to improve the way eyes function.
During a clinical optometry examination, the doctor measures the patient's ability to see objects at various distances, along with the ability to see color and light. An optometrist also looks for injury or disease that might be linked to declining eyesight. He or she typically measures pressure in the eye to detect glaucoma, a common disorder as people age, where too much fluid builds up in the eye. If left untreated, glaucoma could cause blindness.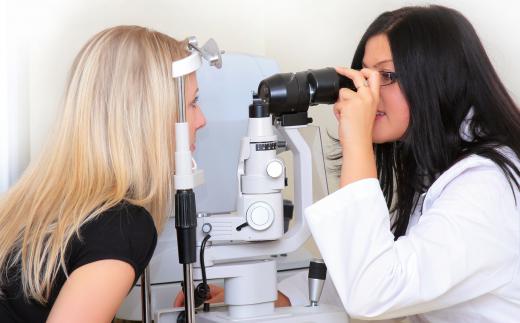 Clinical optometry includes observation for cataracts, a condition marked by clouded lenses. Cataracts might cause vision loss and is also related to aging. If this disorder is discovered, the optometrist commonly refers patients to an ophthalmologist for surgery to remove cataracts. An optometrist also refers patients to medical doctors and specialists for other diseases or injuries that affect vision.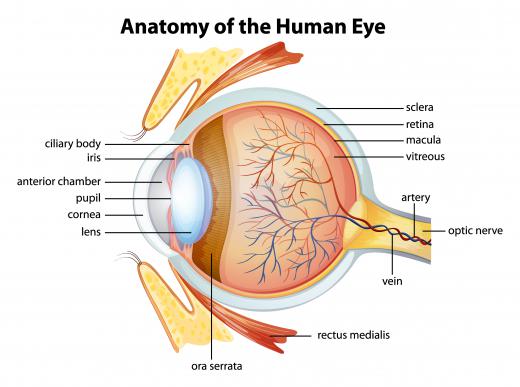 During a clinical optometry examination, the doctor measures the patient's peripheral vision and looks at the shape of the retina. He or she might diagnose astigmatism caused by curvature of the retina and prescribe corrective lenses to improve eyesight. If the patient prefers contact lenses, the doctor typically counsels the patient on their use to prevent infection.
Optometrists use different equipment while conducting an examination, including tools to measure whether eyes are working together. This equipment helps determine if a patient is farsighted or nearsighted, and if astigmatism needs correction. They might diagnose presbyopia, which defines an inability to change focus for nearby objects. Presbyopia, which means elderly eye in Greek, is a very common disorder as people age and might be corrected with reading glasses. Changes in vision can be determined by comparing information from the eye exam with eyeglasses or contact lens prescriptions used.
These doctors usually attend optometry school for four years after completing undergraduate university studies. They study the anatomy and physiology of the eye and eye diseases. The psychology of vision represents another typical course in optometry school. In most areas, a license to practice is needed after completion of studies.
AS FEATURED ON:
AS FEATURED ON:

By: daniel rajszczak

An optometrist examines a patient's eyes.

By: blueringmedia

Optometrists specialize in eye care.

By: Peter Orsaeo Sr

A clinical optometrist commonly refers patient to an ophthalmologist for cataract surgery.