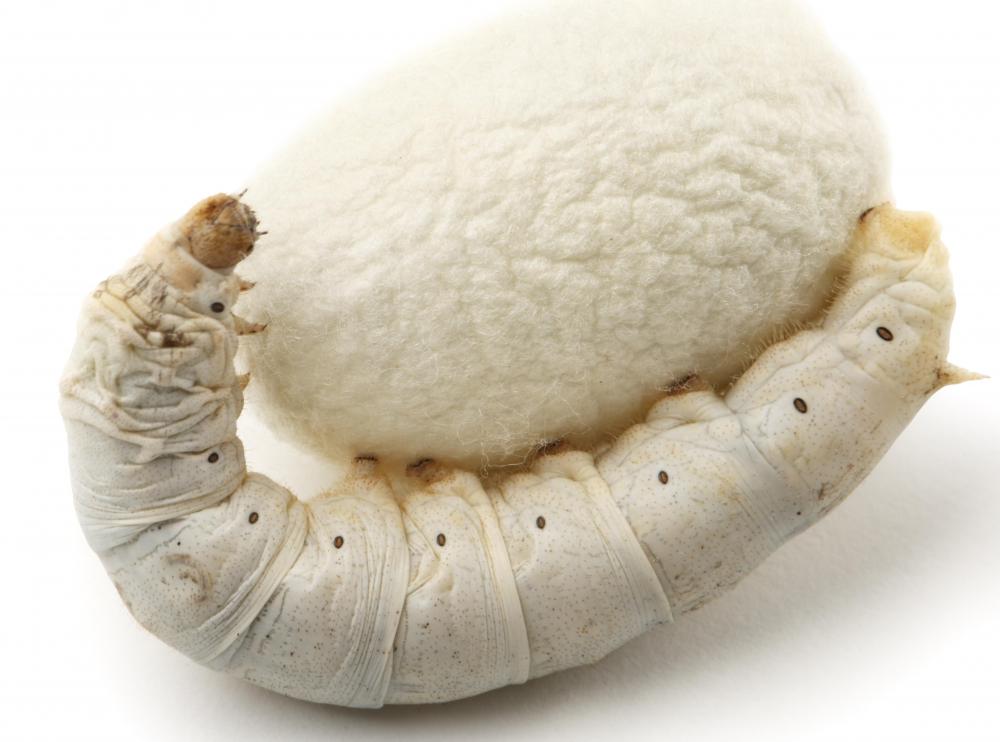 Charmeuse is a luxury fabric made from silk with a satin finish. It has a floating appearance that drapes very well, especially for formal wear. The fabric is also extremely lightweight, and it has a glossy appearance and extremely soft texture. Fabric stores that offer luxury or novelty fabrics typically stock this material, and many department stores carry garments made from it. The fabric does need to be handled with care, since it is very fragile.
In a satin weave, the fabric is woven in such a way that, from the front, only the warp threads show. Many weft threads are also skipped in the weaving, creating long, smooth lines of warp threads. As a result, the front of a satin weave textile is glossy and very smooth, while the backing is matte, and slightly rough. The look of satin is highly prized for dressy garments, since it flows well on the body and catches light in stunning patterns.
To make charmeuse, silk is extracted from silk worms and then woven using a satin weaving technique. The fabric is difficult to work with, since the right side of the fabric is so slippery. In addition, it shows pin holes, so garments cannot simply be pinned for sewing. The fabric can also be scuffed or marked easily, and the long warp threads can sometimes be pulled loose, creating loops and catches in the fabric. When handled well, however, charmeuse makes stunning garments.
As a general rule, this fabric can be hand-washed with cold water and gentle soaps. It should be laid out flat or hung to dry, although clotheslined garments should not be attached with clothespins, since they will leave marks. Charmeuse should also not be twisted or contorted while it is wet, because it may set permanent wrinkles in the fabric. If a garment made from this material does not include care directions, some consumers prefer to dry clean it, since that is unlikely to shrink, warp, or discolor the garment.
Sometimes, cotton may be blended with silk to make this fabric, creating a semi-lustrous satin that is not quite so glossy. This mixed textile is easier to care for and work with, and it is often used in bedding and drapes. Depending on the manufacturer, the percentages of each may be clearly listed on the garment or bulk textile. Cotton charmeuse is also used as a garment lining, since is extremely soft against the skin, without the cool slipperiness of pure silk. The cotton also promotes moisture wicking and fabric breathability.
Charmeuse is made with silk, which comes from the cocoon of the silkworm.

Charmeuse is a fabric made from silk that has a satin finish.

As a general rule, charmeuse can be hand-washed with cold water and gentle detergent.